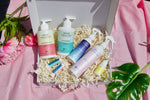 MOXĒ Quality and Certifications
At MOXĒ, we pride ourselves on our transparency when it comes to our products and our practices. So, in honor of National Tell The Truth Day  (July 7), we'd like to lay it all out in the open. 
There's nothing worse than finding out your favorite brands might have some shady practices, so we'd like to give you peace of mind when you shop with us about what you're getting and how you get it.
We've taken this opportunity to list some of our certifications and delve into our policies and practices so you can rest assured that quality is top of our to-do.
Our Practices
When it comes to how we operate as a company, we want you to be as informed as possible. Transparency is important to us because we hate buying from companies that are shady in their operating, whether that be questionable policies, ingredients or crazy claims. 
Ingredients
We know that exceptional products begin with the best possible ingredients, so we've done our homework when it comes to sourcing raw materials. We research, test and retest ingredients before they ever make it in our products and only buy from suppliers we trust. 
Here are some things you can count on:
MOXĒ ingredients do NOT contain  
parabens
phthalates
formaldehydes
lead
heavy metals
methanol
gluten/wheat
impurities
pesticides
artificial colors
animal byproducts
All of our products are vegan, avoid harsh chemicals and additives, and list full ingredients so there is never any question what you're buying. 
Manufacturing
Every new product begins with some research and development from our in-house formulation team of dedicated scientists. They craft each formula with care and consciousness for what our customers need. 
From there, we begin testing and tweaking. Our entire MOXĒ team will try out new formulas and give feedback and suggestions until we're totally satisfied we nailed it! 
Then, we bring it to you. All MOXĒ products are made right here in the USA, with the highest quality standards. We use our FDA registered facility to manufacture products so we can guarantee a safe final result.
Quality Control
We have checks set up throughout every step of production from formulation to distribution. Our comprehensive testing procedures require analysis at various stages and ensure all finished goods are signed off by our quality assurance team. 
For us, accountability for quality doesn't stop at product release. Our MOXĒ Team continues to track, analyze, and collect data on all our products for the safety and satisfaction of our customers. Check out all our safety information here. 
Ethics
If making a good product just meant making something that works, the bar would be set pretty low. We want to raise that bar so that everything we make not only works for you, but everyone—human, animal, and plant alike. 
We test all our new formulas on ourselves (which is the most fun part!) and never on animals. 
All our packaging is recyclable, and we avoid harsh chemicals and irritants so everything we make is as safe as possible for you, the consumer.
Our Certifications
Here's where we put our money where our mouth is, so to speak. We've made a lot of claims here, but we have the certifications to back it up from trusted organizations. 
LEAPING BUNNY
MOXĒ is a cruelty-free company and we believe in maintaining the health and safety of animals. We never, ever test on them or work with suppliers who do. 
For this reason, we are Leaping Bunny certified and you can find our certificate here, as well as our company page on the organization's website. 
The Coalition for Consumer Information on Cosmetics (CCIC) is an organization of 8 animal protection groups throughout the country that came together to create one standard for animal safety and created the Leaping Bunny logo.
It's trusted nation-wide as the symbol for animal welfare in cosmetics and personal care and organizations are rigorously vetted before they receive their certification or any rights to the Logo. 
GREEN AMERICA
MOXĒ is also part of the Green America Green Business Network and holds a Green Business certification from the organization. Green America is committed to social justice and environmental sustainability, and so are we!
We're committed to providing sustainably sourced materials in recyclable packaging so you can shop guilt-free and know your purchases are not only good for you, but good for the planet. 
View our Certificate here.
Bottom Line
The truth is, we care about the products we put out and how our customers perceive them. We want MOXĒ to be an easy choice for you, so we do the hard work to keep it that way.
MOXĒ's full line is cruelty-free, vegan, environmentally friendly and sustainable, and made for you, from nature.
Enjoy all nature has to offer and shop our full line at bemoxe.com!