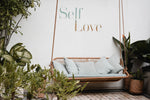 Essential Oils to Boost Confidence For National Compliment Your Mirror Day!
Sometimes we all need a reminder to compliment the most influential person in our lives…. ourselves! July 3rd is National Compliment Your Mirror Day and our reminder for each of us to recognize everything that makes us divinely unique and beautiful people both inside and out. 
Looking in the mirror and complimenting yourself may seem silly, but reminding ourselves what we love and value about ourselves is important to promote positive self-esteem and self image. 
Remind yourself about your achievements (even the ones that may seem tiny) can be a great way to celebrate yourself and the things that you have accomplished in your life.
As similar as we all are, each of us is unique and beautiful in our own way! Celebrating your unique attributes that make you the beautiful one-of-a-kind snowflake that you are, is one of many ways to remind yourself of your value and importance.
Top ways to celebrate Compliment Your Mirror Day:
Organize an uplifting activity that you love.

Compliment yourself.

Pamper yourself.
Essential Oils to Boost Confidence
There's no better way to pamper yourself and nourish your space than with essential oils. Some essential oils stand out over other that have been thought to help encourage positive outlook, emotions, and boost confidence. 
Citrus essential oils are widely believed to help boost mood and energy. Citrus essential oils offer fresh uplifting notes that may revitalize our positive vibes and can be utilized every day!Lemon, lime, bergamot, grapefruit, and orange are all great essential oils that can be used separately or blended with other essential oils!
Some floral essential oils such as rose, lavender, jasmine, and ylang-ylang are believed to help boost confidence, reduce anxiety, and promote a positive mindset. 
Earthy or woody essential oils are known best for their grounding effects and to help promote mental clarity. Essential oils such as sandalwood, cypress, cedarwood, and pine may be beneficial to help clear your mind of negative thoughts that may be weighing on you, and provide a calming atmosphere to help ease anxious feeling.
Spicy essential oils such as cinnamon bark and ginger are warming and invigorating and can promote a sense of comfort and courage. 
Herbaceous essential oils such as peppermint and rosemary may be beneficial to promote breathing, helping you release negativity, and promote an atmosphere for self-reflection, allowing us to adjust our mental state. 
Recommended Blends
MOXĒ Peace is a calming blend of bergamot, mandarin, geranium, and lime. This blend is perfect for those moments when you need to soothe your mind and release stress, promoting a positive atmosphere to pamper and appreciate yourself.
MOXĒ Dream is relaxing blend of lavender, chamomile, grapefruit, and lemongrass. This blend can help promote a peaceful mindset where sleep can blossom, and everybody knows that every great day starts with a good night's rest!
MOXĒ Breathe is a intense blend of peppermint, eucalyptus, tea tree, lavender, cajeput, and Himalayan sea salt. This blend is a daily essential! From stuffy noses to busy days, this blend is that 'top of the mountain' breath of fresh air when you need it!
Safe Usage
Each of these essential oils can be diffused aromatically by themselves or can be blended with other essential oils.
Essential oils are really strong and concentrated, and if you are planning on using any essential oils topically, you'll want to mix your essential oils with a carrier oil such as coconut, jojoba, grapeseed, or rosehip oil.
If you are unaware of how your skin will react to a specific essential oil (or carrier oil), start with a small amount of diluted oil to an isolated patch of skin (either on the back of the hand or on the forearm is recommended). If any irritation occurs, you may want to discontinue use and consult a healthcare professional. 
To make sure you dilute to the proper ratio, follow the guidelines suggested by the National Association for Holistic Aromatherapy (NAHA) recommendations.
Conclusion
While National Compliment Your Mirror day may be a reminder to appreciate and pamper ourselves, these are things we can do every day, making self-care and self-love a habit, making each day just a little bit brighter! Essential oils can be beneficial to help clear our heads, center ourselves, (and overall) give our confidence and self-image a boost.