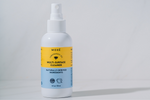 These days, an on-the-go clean is in high demand. So, as is the MOXĒ way, we created a cleaning spray you can rely on, with only the best natural cleaning agents and leaving out any harsh chemicals. 
MOXĒ Multi-Surface Cleaner is portable, convenient, and made with essential oils known for their strong antimicrobial properties. What else makes our formula unique and effective? We'll get into all the reasons our multi-surface cleaning spray belongs in your cleaning arsenal in this post. 
Ingredients In Multi-Surface Spray
At MOXĒ, we pride ourselves on sourcing the best ingredients for you and your home. For us, this means utilizing the power of nature wherever we can. 
Here are some of the key ingredients you'll find in our Lemongrass surface cleaner: 
Sodium Surfactin
This ingredient is a non-synthetic, all natural and biodegradable surfactant. Surfactants, short for "surface acting agents" lower the surface tension of a liquid mixture and they encompass a wide range of compounds with varying uses.
This one in particular acts as an emulsifier to help blend the essential oils with the water base, so you get one uniform liquid that won't separate since normally, oil and water don't mix. This ingredient is sustainably sourced from bacillus strains of bacteria that naturally create it. 
Alpha Olefin Sulfonate
Another surfactant, this one is derived from coconuts and is added to the formula as a detergent or cleaning agent. This is what lifts dirt and grime from surfaces, leaving a sparkling clean.
You'll find this ingredient in a wide range of cleansing products, from shampoos and body washes to hand soaps, dish detergents, and more.
The Essential Oil Blend
Every essential oil blend in every MOXĒ product is specially curated for combination of functionality and efficacy. In our multi-surface spray, we've included lemongrass, grapefruit, and thyme essential oils. 
These oils have been studied for their antimicrobial properties and research shows significant reduction in cultures and inhibition of bacterial growth. 
Features of MOXĒ Multi-Surface Spray
Not only does this spray come packed with cleaning power, but we've made sure to cover all your bases when looking for home care products you can trust. 
Portable. Our 4 oz bottle design ensures you can be clean on-the-go. Whether you're sitting down to eat at a restaurant, working out at the gym, shopping at the grocery store and more, you can pull out your surface spray and wipe away germs and dirt. 
No harsh chemicals. Filled with plant-derived ingredients and non-toxic, this product is safe to use throughout your home
Fresh scent. Not only do our added essential oils provide a natural clean, they also make for a clean, uplifting citrus scent. 
Safe on surfaces. Kitchen and bathroom counters, coffee tables, gym equipment, shower tiles, and more can be treated with our multi-surface spray. Have peace of mind in the cleanliness of your home and environment. 
Cruelty-free and Vegan. As with the rest of our MOXĒ line, feel secure in the knowledge that we have never and will never test on animals, or use animal byproducts in anything we create. MOXĒ is Leaping Bunny and Green America certified because we care about the planet and all of its inhabitants. 
How To Use
 To get the most out of your cleaning spray, simply spray down a surface and wipe away with a clean paper towel or cloth. 
For best results and to benefit from the mood uplifting properties of our included oils, let the spray sit for a 3-5 minute contact time before wiping. 
Conclusion 
MOXĒ Lemongrass Multi-surface spray is thoughtfully formulated using natural ingredients and essential oils for a clean that's tough on dirt and gentle on the environment. 
Our spray includes lemongrass, thyme and grapefruit oils with germ-killing properties and a naturally fresh scent and is conveniently packaged to take with you wherever you may need it most.