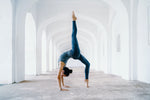 7 Essentials Every Yoga Lover Should Have in Their Yoga Bag
Before you get into your first yoga pose, it is important to have everything you may need, to keep your head clear, and can get the most out of each yoga class. Whether it's your first time or you're a yoga enthusiast, it is these staples are important for making each class the best experience every time.
Water Bottle
The first thing you'll want to make sure you pack is probably a little obvious, but you will definitely need a water bottle. Your yoga studio may provide water bottles, but this is not always a grantee. Reusable bottles are also more eco-friendly than the plastic disposable alternative. It doesn't have to be a fancy Hydro Flask, but hydration is a key aspect, and you'll thank yourself once you get started. 
Yoga Mat
Another obvious one, but you will certainly need a yoga mat. Having a yoga mat is important for keeping you from slipping during the exercise, and can also provide padding, making it more comfortable than standing directly on a hard surface. Again, your yoga studio may also have a few communal mats for you to use. However, choosing your own mat does present the opportunity for self expression, and gives you the ability to choose the perfect one just for you.
 With a wide variety of mats to choose from on the market from high-end options such as Lululemon, to the convenience of Amazon delivery, there are endless possibilities to choose from.
Yoga Towel(s)
You will also need at least one towel, but we do suggest a couple, each with its own function. The first is a towel just for you. You may start to sweat at some point, and having a towel to dry your face, and keep the sweat out of your eyes will definitely benefit you during your class. You may also want to bring a separate towel to wipe down your mat, and if you are planning on taking a bikram (or hot yoga) class, you may want to bring a large full -sized towel to put over your mat to catch any sweat, prevent you from slipping, and to provide additional padding.
Yoga Mat Cleaning Spray
After your yoga class, you may notice your yoga mat isn't the cleanest, and if you are taking yoga classes frequently, it may even start to smell if you do not keep it sanitized and deodorized. In addition to having a towel to wipe down your yoga mat with, we do recommend using a yoga mat cleaning spray to keep your mat fresh, clean, and ready for your next pose. 
Our Yoga Mat Cleaner is made with a non-toxic formula consisting of plant-derived ingredients and 100% pure essential oils. 
The specific ingredients below highlight the special cleaning properties: 
Lemongrass essential oil has naturally occurring antimicrobial properties which will help with odors from sweat.

Decyl Glucoside is a mild soap that can help lift dirt from your yoga mat or fitness equipment.
Toiletry Essentials
You may also want to pack some toiletry or hygiene essentials for your yoga class. This includes deodorant, hair ties, an extra face mask, and maybe even a MOXĒ Essential Oil Nasal Inhaler. Having a small toiletry bag full of your daily essentials, can make your transition to and from yoga class a bit smoother. 
Clothes
Wearing the proper clothing for your yoga class, that is both comfortable and moisture wicking, is important to achieving the best experience. You may want to stray away from cottons to prevent sweat from building up, and weighing you down. However, wearing yoga pants, leggings, or athletic shorts with a light dry-fit top can definitely make all the difference when it comes to comfort during your class.
You may also want to pack a change of clothes for afterwards, especially if you are planning on going to work, school, or out to run errands. You can definitely get your sweat on while doing yoga, and having that extra change of clothes can be beneficial.
Yoga Bag
And of course, having the a bag to keep all of your yoga essentials organized is also important. Again, your bag doesn't have to be the most expensive option, but staying organized will help you make sure you have everything you need, and right at your finger tips when you need it.
Conclusion
Before your next yoga class make sure you have everything you need to make sure you have the best experience possible. While all these things are important individually, they are all key components to make sure you have everything you need, your mind is clear, and you can enjoy each class without a single worry.