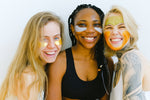 How to Have The Perfect At Home Spa Day
Had a long day? Can't wait to get home and have that moment of de-stress where the only thing that matters is your candle, essential oils, bath-tub and you? We feel that.
Whether you already have your at-home spa routine and want to find some other ways to spruce it up, or if you never explored the idea of creating your own personal at-home spa experience, this blog is perfect for you. 
Here we'll outline the best ways set up a quick at-home spa so you can destress and prepare for a great following day. 
First, let's get into why you should have an at home spa day in the first place.
Benefits of having an at-home spa day.
Saving Time and Money.
Girl, you deserve this. If you've been feeling like you haven't had the time to take care of yourself like you know you need to, having a convenient at-home way to do this will save you money, and the hassle of setting up an appointment somewhere else.
A typical spa day away from home ranges anywhere between $80-$300 dollars, and that's typically just for a massage a facial included. Then there's also the time it takes to get to and from the spa, getting ready, and having to drive all the way home after your mind and body are at max zen-mode. 
You can do practically the whole same treatment by yourself and without dropping so much cash. Be in the comfort of your own home, playing your favorite relaxing music, and investing a bit of money for a an at-home spa that will last is just totally worth it. 
Health benefits of an at-home Spa Day
Feeling warm physically, can really help your mind and body destress. Whether that's by taking a nice hot shower or bath, this could be a great first step in beginning you at-home spa routine. According to a German study, participants with depression reported feeling in a better mood after taking a 30 minute bath in 104°F water. 
A warm, relaxing bath is not just a great destress-er, it can also help you have a calmer, deeper sleep. Once your get your body to such a relaxed state, it is much easier to slip into your sleep and wake up feeling refreshed and well-rested. 
Doing a facial as part of your at home spa routine can also help reverse aging. Focusing on treatments for your skin will not only improve the health of your skin, but it will also help make it last and keep its natural glow. 
Mood benefits of an at-home Spa Day
Happiness. This is our favorite natural effect from these at-home spa treatments. Practicing self-care will ultimately improve your sense of self-love and how you treat your mind and body both physically and mentally.
It gives you that moment to realize how grateful you should be for the body you are in, and how important it is to take care of it. If you show your body some love, it will show love to you. 
Now that we talked about why it's important to have an at-home spa day, let's dive right into how to actually create your at-home spa day. 
Step 1. Preparing and Staging 
Intention
Before you get started, take a mental note of why you are wanting to have this spa day experience and what you want it to do for you.
Had a rough day at work and need to get your mind off of things? Just dropped the kids off for school and just want a few moments that are all about you? Or maybe you just want to freshen up your skin, mind, and body and make this a weekly thing? 
Whatever the reason is, it can be beneficial to think about why you're starting on this spa-journey and where you want to be or how you want to feel when it's finished. This can help you guide the activities of your spa, the music you want to play, the scents of candles or essential oils you want to use, etc. 
Commit to a time
We get it, life can get really crazy sometimes. But there's no excuse to not find just a small window of time for yourself, even if that's just 30 minutes. 
Take a look at your schedule, and find that golden window of at-home-spa-day opportunity, and take it. Mark it down, and really try to make it official. 
This will help you prioritize yourself and encourage you to avoid scheduling or overlooking this date and time with other plans or tasks. 
Your mind, body, and spirit is important, so don't put it last on your list!
Plan for what you'll need for your at-home Spa Day
Skin/Hair Products
We all have our favorite set of face masks, hair masks, nail polish colors, bath/shower temperature, essential oils, bath bombs and so much more. 
If you're new to the spa-game, don't worry, this is the time to discover what types of spa items speak the most to you!
If that mean you should take a quick trip to the store over the weekend or a day when you have a couple hours to spare, to restock on those face masks and skin/hair products, go for it! Preparation for the perfect spa-day is key. 
Aromatherapy
Scout out some candles or essential oils that will bring you a sense of peace and calmness for your at-home spa day. One of our personal favorites is our essential oil nasal inhalers. Small and compact, but packed with a powerful scent that immediately can improve your current mood, these little tubes of wonder can be your at-home spa day companions, ready to be used whenever you need a refresh. 
If you're looking to use pure essential oil tinctures to drop into your personal at-home diffuser, we have a few essential oils to recommend that can be perfect for your spa day. 
Lavender - 

You've probably seen us mention this essential oil in a few of our blogs. That's because it is so popular and well-known for its relaxing benefits. Just a 

few smells of this essential oil

 can instantly make you feel relaxed and more calm. 

Bergamot - Another great essential oil to incorporate in your DIY spa is Bergamot. Its light citrus scent is known to have healing properties and is a great stress-relieving essential oil. Incorporating this in your spa routine along with the previously mentioned essential oils will surely transform your bathroom into a relaxing, spa oasis. 
Valerian - The valerian herb is known since ancient times to have natural sedative effects. It has been known to calm nerves, and relieve feelings of anxiety. This could be a great essential oil to add to your diffuser. 
These essential oils are just a few of our personal favorite relaxing oils and can be found in pure tincture form to use for your diffuser, or in a variety of our nasal inhalers or essential oil diffusers. A candle is also a great, easy way to experience aromatherapy.  Whichever way you like use essential oils, the choice is yours!
To get into that ultimate relax-mode, having everything you need to make that at-home spa day just right, will only improve your spa day experience. 
Now that we've talked about the importance of preparation, let's get into our favorite step, getting the mood right. 
Step 2. Creating the Ambiance
Start with Aromatherapy
Now that you have your favorite aromatherapy go-to products ready, light those candles, diffuse or inhale those essential oils and get ready to start your at-home spa day.
One of our personal favorites is our Dream essential oil nasal inhaler.
Infused with some of the best essential oils that can help you relax (lavender, grapefruit, and lemongrass), this is perfect to use when you're having a spa session right before bed. 
Some of my favorite scents when trying to relax is either a Lavender candle, green-tea and lime, or a refreshing eucalyptus candle. Whatever you prefer, get that aromatherapy started while you prepare the rest of your spa and slowly enter a calm and relaxed state of mind. 
Lights, Music, Action
Dim the lights to whatever feels most comfortable and relaxing to you. Maybe you have a red light or a color-changing lamp that helps create your perfect peaceful oasis. Lighting can add to your spa experience and further transform your bathroom into your ideal spa. 
Play some music that you connect with, relaxes you and really makes you feel at peace. My favorite music at the moment while relaxing is really anything by SZA. Particularly her latest song; "Good Days" really helps me destress and get into that zen mode. You should check it out if you haven't yet! 
Step 3. Revitalizing Treatments
Now that the vibe is right, it's time to get into that self care. For the next hour or two, it really is all about you. 
Your ideal self-care ritual might be a facial and a 30 minute foot-spa session. Maybe it's a clay face mask, a couple cucumber slices placed on your eyes, or it's your favorite hair mask going while you dance to your favorite song in the mirror. An at-home spa day can look and feel any way you want it to. That's the beauty of having a spa day at home! 
Whatever ritual it may be, end your routine with the one you enjoy the most. This will build up your spa day experience and end on the most relaxing note. 
DIY Facial Scrub
Exfoliating your skin can unclog your pours, smoothen your skin, and improve circulation.
Honey and oats are a great natural-ingredient-duo for your skin. Honey has a great natural formula that has the ability to balance the bacteria on your skin and is therefore a great natural ingredient that combats acne. It is both a natural exfoliant and moisturizer.
Here's how to make a quick facial scrub with honey and oats. 
Grind 1/4 cup of plain, uncooked oats into a powder using a coffee grinder or food processor. Warm 1/8 cup of raw honey in the microwave for 10 seconds or less so that it becomes smoother and easier to mix. Mix the oats, honey, and 1/8 cup of jojoba oil and apply to your skin in circular motions for about 1 minute. 
Rinse the scrub with water and save the remaining scrub in a container for later!
Relaxing DIY Bath Experience
You can include so many things in your tub to totally maximize your zen.
Some of our favorite things to include are...
Epsom salt is an ingredient meant to use in a bath, and can help with minor aches/pains, sore feet, muscles, sprains, stiff joints, stress, and even sunburn. It has been known to soothe tired muscles and reduce swelling. 
You can add this powerful, soothing mixture to your bath and have noticeably smoother and softer skin right after.
Oatmeal has been known to treat eczema and promote smoother skin. Before you rush to your pantry and dump a container of Quaker oats into your tub, you should know we're talking about "colloidal" oatmeal, which is a finely ground oat powder that easily dissolves in your warm bath water. You can find this in nearly any supermarket store like Walmart or Target. 
If you want to skip a trip to the store and already have some oats available, here's how to easily turn them into bath-ready oats! 
Easy 3-step Bath-ready oats DYI
Simply grind up your oats in a blender or food processor until it becomes a fine powder.
Check to see if one spoon of the mixture dissolves in water.
Then, pour the whole thing (however much you want) into your warm bath and use your hands to help dissolve any clumps in the water. 
Coconut Oil
You've totally heard of this oil as being the lifesaver ingredient for so many things. Healthier lashes, skin, hair, and so much more. 
Add just a tablespoon of this magic oil into the water stream while running your bath and let the coconut oil do the work for you while you soak in your bath/spa oasis.
4. Drinks and Snacks
What's better than a perfect self-spa treatment? Eating your favorite snacks while you spa.  
Sip Sip, Hooray
Whether you like to wine-down, or pop a soda open, grab your favorite refreshment and sip on it while you enjoy your self-care oasis. 
Start your spa experience with a fresh glass of your favorite wine and add a couple raspberries or strawberry slices to it if you really want to get bougie. 
Don't forget to stay hydrated with the best refreshment. Water of course. Keeping your hair and skin hydrated with masks and luscious scrubs is important, but keeping your actual body hydrated with water is crucial to having a holistic and perfect at-home spa day experience. 
Spa Snacks
Having a light, delicious snack to satisfy those taste buds is will make your at home spa experience even better. 
Make a quick homemade dip by mixing some mayonnaise, fresh dill, cream cheese, and a pinch of sea salt and pepper.
Dip some fresh baby carrots, celery, your favorite crackers (or everything) into the mix and you have yourself a quick, 5-minute, delicious dip you can enjoy while soaking in your bath or as an after-spa treat. 
In Conclusion
To summarize, the way you create your perfect at home spa day oasis is really up to you and based on the things that you enjoy. Creating an at home spa day experience is not as daunting as you think.
If you set your intention ahead of time, pick a date and time on your calendar that you can stick to, plan for what types of treatments you want to do, and decide on the elements you need to best help you relax, you will have yourself a perfect, well-thought-out spa day.
Whatever your idea of the perfect relaxing getaway is, chances are you can totally recreate that fantasy at home with just a little bit of preparation and time!