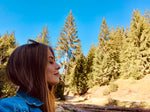 Essential Oils For Nasal Congestion
Let's be real...nasal congestion is the worst! Not only is it a nuisance but it also could cause negative impacts on your health. 
Nasal congestion can be caused by infections such as the cold or flu, allergies, or even environmental aspects such as dry air or tobacco smoke.
Whatever the cause may be, congestion can definitely be annoying, frustrating, and inhibiting for normal day to day function.
Some essential oils may have the ability to clear up congestion, alleviate discomfort, and allow you to breathe a little easier. 
In fact, MOXĒ has developed a special blend of essential oil inhalers to relieve nasal congestion. We call it MOXĒ Breathe! In this article, we will explain the essential oils used in MOXĒ Breathe and why they help to alleviate congestion.
WHAT ESSENTIAL OILS HELP ALLEVIATE NASAL CONGESTION?
Some of our favorite essential oils to help with congestion include peppermint essential oil, eucalyptus essential oil, lavender essential oil, rosemary essential oil, tea tree essential oil, and cajeput essential oil. 
These oils we have blended together inside our Breathe products, to provide everyday and on-the-go relief. 
Here we go! First up is peppermint oil.
PEPPERMINT ESSENTIAL OIL
Peppermint (Mentha arvensis) is one of the oldest cultivated herbs used for medicinal products. In addition to a pleasant minty and refreshing scent, peppermint oil contains menthol, which may open up airways, clearing mucus, and allowing the user to breathe a little easier.
Peppermint oil may also contain antibacterial properties, which may help fight bacteria, which can cause sinus congestion.
EUCALYPTUS ESSENTIAL OIL
Eucalyptus (Eucalyptus globulus) is typically used for its soothing effects when inhaled.
Eucalyptus oil is used in many chest rubs, and other over-the-counter decongestants, eucalyptus oil is believed to relieve cold and flu symptoms, such as headaches, nasal congestion, and runny noses.
LAVENDER ESSENTIAL OIL 
Lavender (Lavandula angustifolia) studies show that lavender has natural anti-inflammatory characteristics and may help reduce inflammation of the airways. In addition to possibly helping you relax and sleep a little better at night.
Lavender is also believed to provide a pain-relieving effect for some individuals.
ROSEMARY ESSENTIAL OIL
Rosemary (Rosmarinus officinalis) provides a  woody, evergreen-like scent. Rosemary oil is typically described as invigorating and purifying and is believed to be an anti-inflammatory, which may help relieve inflammation of swollen sinuses. 
TEA TREE ESSENTIAL OIL
Tea Tree (Melaleuca alternifolia) is said to be helpful in alleviating chest and head congestion. Tea tree oil is believed to possess antiviral, antibacterial, as well as antifungal properties that may have a positive impact on sinus congestion. It may also help with reducing inflammation, which can be another cause, or contributing factor, of congestion.
CAJEPUT ESSENTIAL OIL
Cajeput (Melaleuca cajeputi) is typically used for colds, congestion, and to loosen phlegm.
It may also provide some pain relief for headaches or toothaches. 
PINK HIMALAYAN SEA SALT
Pink Himalayan Sea Salt is thought to help some individuals thin mucus inside the lining of the airways. When salt particles are inhaled these particles attract water which may help loosen mucus and help you breathe a little easier.
MOXĒ BREATHE COLLECTION
Our Breathe collection incorporates all of the above essential oils into a perfectly crafted blend that is ready to help you Breathe just a little bit easier. 
Our Breathe Shower spray is one of the three shower sprays that we offer. Easy and ready to use, our Breathe shower spray provide you with an invigorating shower experience that will leave you feeling energized and breathing better than you did before!
For a portable option, our Breathe nasal inhalers are super convenient and fit right in your pocket allowing for instant nasal congestion relief at anytime and anywhere. From home, to the car, to the office, it's no wonder why all the best things come in 3's! For natural and quick relief, our Breathe nasal inhalers are a daily must have!
Finally, our Breathe pure essential oil blend is ready to be dropped in your favorite diffuser, or to let your imagination run wild! To utilized this blend in an aromatherapy diffuser, place a suggested 3 to 5 drops of your Breathe essential oil blend (per 100 mL of water) of your into your diffuser.
If you do not have a diffuser, you may also find that boiling water, and utilizing the same ratio of essential oils to water, will allow the oil to diffuse into the steam, and when inhaled, may produce the same effect.
CONCLUSION
Although essential oils may not be able to cure your cold, or alleviate congestion permanently, they may be able to provide you with temporary relief, and breathe a little easier.
To sum it up the best essential oils to use for nasal congestion include peppermint, eucalyptus, tea tree, lavender, and cajeput! These out these oils next you experience nasal congestion.