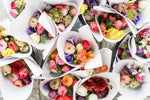 MOXĒ Mother's Day Gift Guide
Mother's Day is just around the corner and if you're scrambling to find just the right thing for Mom this year, we've got your back with our MOXĒ Mother's Day Gift Guide!
We understand the stress of gift giving, especially for someone as important as the woman that brought you into the world. You can't do another gift card again this year, so what's the plan? 
In this post, we'll give you some ideas for simple yet meaningful gifts that Mom is sure to love. 
5 Gift Ideas for Mother's Day 
1) At Home Spa
Your mom deserves a spa day to destress and unwind, but those usually come with a hefty price tag. Our solution? Bring the spa to your mom.
Give the gift of relaxation with our essential oil shower sprays for steamy bath experience with calming, refreshing oils. Add our essential oil tincture blends to jojoba or coconut oil for a great massage to relieve aches and tension or add a diffuser gift to fill the room with her favorite scents. 
2) Dinner and Flowers: A Classic Combo
We know it's a cliché, but who doesn't love getting a bouquet of flowers and a good meal? At the end of the day, the gift your mom would probably most appreciate is just some quality time with her kids, especially if you're all grown up and moved out. 
A beautiful flower arrangement and a good meal with family is a classic combination for a reason. It's a lovely way to spend a Mother's Day, just make sure you're not making mom do any of the cooking or cleaning!
3)  A Gift That Keeps On Giving
Want to get your mom the perfect Spring perfume scent but worried she may not like it? Or maybe she's a big skin care enthusiast and is always buying new lotions and potions. 
Whatever her interest, there's likely a monthly subscription service that delivers her favorite goodies right to her door, and many of them have subscription gift packages for her to try out for a few months. 
Anything from perfume and skincare products to gardening and cooking, she'll be opening presents for months after Mother's Day thanks to your thoughtful gift!
4) Nifty New Gadget
These kinds of gifts may be a little pricier, but maybe you have some siblings to help you out for a group gift or you've been saving to really wow her on Mother's Day. 
Certain electronics can make a Mom's life way easier, from smart watches to AI devices, eReaders, and more. 
Personally, my mom still hasn't stopped raving about the AirPods we got her last year so she can talk on the phone hands-free for hours (as she quite often likes to do). 
5) Mood Uplifting Scents
Give your mom the gift of mood enhancing aromatherapy at home with MOXĒ Room & Linen sprays. With three unique blends to suit any vibe, she'll fall in love with simply cozying up and staying in. 
Shop now for 30% off the 3 scent bundle through Mother's Day 5/9!
Conclusion
With Mother's Day fast approaching, you're losing time to find the perfect gift for one of the most important people in your life. It's often hard to come up with a thoughtful new gift every year, so whichever of these ideas you run with, you're sure to be a hit.
Take some of our pointers and get to work organizing the day to celebrate her and all her hard work and love.