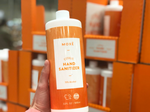 MOXĒ Premium Hand Sanitizers Now At Costco
Hand sanitizers are in short supply everywhere right now thanks to the Covid-19 global pandemic, which is why at MOXĒ have taken it upon ourselves to ensure the essential supplies you need to stay safe are still available to you. 
MOXĒ premium hand sanitizer is made with fortifying essential oils and 70% alcohol content so you can be sure it's getting the job done.
Our citrus-scented sanitizer has been tested to ensure safety and efficacy, and you can find it at Costco stores nationwide. 
We wanted to do our part to help combat coronavirus, so we made MOXĒ sanitizers to make sure you had an effective, cruelty-free (always), an option you could count on. 

Why MOXĒ Premium Hand Sanitizers Should Be Your Pick
With sanitizers, content is important. The FDA considers hand sanitizers to be over the counter drugs and have specific requirements for their manufacture and sale, chief among these is a 60% or greater alcohol composition. 
Evidence shows that sanitizers with the appropriate alcohol content can be effective in killing certain types of viruses, including the coronavirus.
Since our MOXĒ sanitizers contain 10% more alcohol than the FDA mandates, you can have peace of mind knowing this is a product you can trust, helping you get through these uncertain times. 
Our formula not only includes extra alcohol as an active germ-killing ingredient, but essential oils and other humectants to ensure your skin stays moisturized and feeling its best. Alcohol can be drying to your hands, especially using it as often as we are these days, so we've added these ingredients to help maintain soft, hydrated, germ-free hands. 
Where To Buy MOXĒ Hand Sanitizer
Our sanitizers can be purchased at your local Costco nationwide.