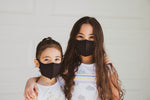 4 MOXĒ MUST HAVES FOR GOING BACK TO SCHOOL
Keeping your family safe is probably more on the forefront of your mind than ever before. If you have a child returning to school this fall, there are a couple of supplies you may need to add to your list before you drop them off for their first day.
Hand Sanitizer
While hand sanitizer may not be a stranger to your child's school supply list, this year it definitely is an important one. Keeping a large bottle of hand sanitizer at home to refill your child's travels size bottle can be a great way to save money over the course of the school year.
Our hand sanitizers, that are made in the USA following CDC guidelines, are available in three scents:
Shop the MOXĒ Premium Hand Sanitizer collection here.
Hand Soap
Our hand soap collection is moisturizing and germ fighting! Available in 4 signature scents, all of our hand soaps are made with coconut oil, aloe extract, plant-derived ingredients, and are cruelty free!
Shop the MOXĒ natural Hand Soap collection.
Multi-Surface Spray
Our natural lemongrass oil Multi-surface cleaning spray is made with non-toxic plant-based ingredients and essential oils, and is also biodegradable. Its' travel sized bottle is perfect for the classroom.
MOXĒ Lemongrass multi-surface cleaning spray features essential oils like lemongrass, thyme and grapefruit which are shown to provide natural antibacterial properties. You can learn more about these oils and why they are ideal for green cleaning!
Back To School Bundles
Want to save on all the products we just mentioned? Good news. We've created three Back to School Limited edition bundles made for any classroom or home. Save up to 20% off our premium sanitary items and enjoy a little aromatherapy too. It's a win win for back to school! 
Masks
We recommend packing your child a few masks for when they go to school just in case one is lost or gets dirty. Also, putting your child's name on their masks may help them keep track of them make sure they aren't confused as somebody else's. You may also want to dedicate a small bag or container to store your child's masks when they are not in use. This can help them keep track of their masks and keep them clean when they are eating or when they leave school. 
Other Supplies
Keeping in mind your child's day to day activities while at school, you may want to make sure your child is stocked up on all of the supplies they may need to help them avoid sharing or borrowing supplies from other students. Some schools may not be able to provide communal school supplies, and sharing with other students allows for the opportunity to share germs as well. 
You may also want to send your child to school with a reusable water bottle to help them avoid or minimize contact with communal water fountains. 
Conclusion
The best way to ensure your kids stay safe and have the best school year possible, is to be prepared and make sure they have everything they may need before the first day of school. From hand sanitizer to travel cleaning sprays, MOXĒ is ready to get back in the classroom!