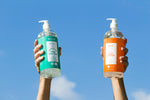 Benefits of Using A Premium Hand Sanitizer During COVID-19
Germs are always around us — from our remote controllers to your office doorknob.
With the current pandemic, the campaign for handwashing and the use of hand sanitizers has reached an all-time peak.
Recently, the CDC recommends regular handwashing with soap and flowing water. This, they say, reduces germs and chemicals on our hands, and, in turn, curbs further spread.
However, where the regular wash is unattainable, an alcohol-based hand sanitizer — with not less than 60% alcohol concentration — is your next best option.
No doubt, premium hand sanitizers play a key role in the battle against germs. Their extremely convenient compact size makes it suitable for on-the-go usage.
But what takes hand sanitizer to another level?
The inclusion of essential oils makes a whole lot of difference. They not only combat germs, but they also offer users aromatherapeutic benefits.
This article examines the benefits of using hand sanitizer with essential oils – particularly amid flu season.
Beyond traditional hand sanitizers…
All sanitizers are not produced equal. Too often, conventional hand sanitizers are packed with sodium lauryl sulfate, synthetic fragrance, and parabens. These chemicals are not only harmful to your skin; they may adversely affect the hormones.
And since companies aren't required to disclose product ingredients that birth their unique scents, you can never be too sure of their chemical compositions.
No worries though. There are more natural hand sanitizers, formulated with mild and more natural ingredients which offer added moisturizing effects and natural scents.
Composition of Premium Essential Oil Hand Sanitizer
Here's a typical content profile of an essential oil hand rub:
Alcohol
Of course, this is the key ingredient in all alcohol-based sanitizers. The CDC recommends sanitizers with not less than 60% alcohol content for effective disinfecting and germ/virus elimination.
Aloe Vera Leaf Juice 
Aloe Vera leaf juice is a base ingredient of many hand sanitizers. However, ensure you buy a product with natural aloe vera gel. Don't be deceived by the misleading "aloe vera 100% gel" tag seen on many labels.
Too often, these products are packed with carbomer, triethanolamine, polysorbate, benzophenone-4, iodopropynol butyl carbamate, and other harsh chemicals.
Essential oils
Essential oils are the high point of many premium hand sanitizers. They support the alcohol's germs-fighting mission, offering antiseptic, antimicrobial, antiviral, and antibacterial properties.
Even more, these essential oil helps restore the lost moisture and nutrients and, as well, leave your hand smelling fresh.
Vitamin E
Vitamin E also is known as Tocopheryl Acetate. Remember, vitamin e products are your choicest skincare option. This ingredient helps restore the skin's lost moisture and replenishes the skin's nutrients.
Glycerin
This substance helps blend essential oil and alcohol seamlessly. Also, it adds moisture and a protective layer to your skin. 
Why premium hand sanitizers with essential oils?
Many premium hand sanitizers come with essential oils. This desirable ingredient increases the effectiveness of a hand rub solution.
Besides its antimicrobial properties, citrus essential oil, for example, also leaves your hand smelling fresh.
For a detailed explanation, let's examine three main benefits of hand sanitizers with essential oils:
Restore moisture and nourishment
Typically, alcohol leaves the skin dry. For this, most traditional hand sanitizers come with humectants added to replenish lost moisture.
While ingredients like aloe vera gel, glycerin, and other moisture replenishing solutions come handy, essential oils further soothe dry, chapped skin, and restore lost nutrients.
Fortifies the antibacterial fight
Research says many essential oils come with antimicrobial properties.
So, your essential oil supports the alcohol solution in the fight against germs and viruses, thereby, improves the effectiveness of your sanitizer.
Aromatherapeutic effect
Again, essential oils come with appealing fragrance that magically promotes relaxation, mood boost, and concentration.
How to Use Hand Sanitizers
Using hand sanitizers is as easy as pie. Here's how to apply:
First, ensure your hands are not visibly dirty or greasy.
Apply gel on the palm of a hand
Rub generously, until it fully covers your hand – from the wrist down to your fingertips.
Keep rubbing until the solution dries up.
Do not wash away.
Wrap Up
While the world yet awaits a vaccine or cure for the novel coronavirus, personal hygiene remains the primary keyword.
Hand sanitizers with essential oils remain your best bet. They do not only increase the anti-germs potency of the alcohol solution, but they also leave your hand moisturized, nourished, and smelling fresh.
Shopping for Hand Sanitizers with premium ingredients? Check out our Citrus Oil Hand Sanitizer to Be Extra Clean.