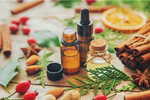 10 Must-Have Essential Oil Blends for Christmas
Christmas is right around the corner and while everything around us is beginning to look a lot like Christmas - why not make it smell a lot like Christmas too? When I think of Christmas scents, I think of notes of fresh pine, sweet peppermint, cinnamon apple, and cedarwood. And I can tell ya, these scents surely make me feel in a festive mood. 
The perfect way to make your entire home smell like Christmas is to use a diffuser and adding a holiday scented essential oil blend to it. Surely these scents can conjure feelings of warmth, positivity, and maybe a boost of holiday spirit! 
So get a head start and get your hands on my recommended 10 must-have essential oil blends for Christmas, and start basking in the holiday aromas in your home.
Holiday Spice
$29.99 (Shop Now) 
aromatechscent.com
Notes: Apples, Tangerine, Cinnamon 
I love the Holiday Spice Scent.. it's very light with a little bit of a kick! Definitely puts you in a jovial mood which we could all use right now. It has a fresh and spicy scent with some lovely citrus notes. 
Forest Fresh 
$15.95 (Shop Now) 
edensgarden.com 
Notes: Douglas Fir, Atlas Cedarwood, Cypress, Spruce 
Invigorate your air with the pine-forward aroma with notes of Douglas Fir, Atlas Cedarwood and Cypress. It has fresh, foresty and almost aquatic notes to it. I find it extremely relaxing and diffusing this essential oil blends turns my home into a winter wonderland. 
Balsam Fir Needle
$12.29 (Shop Now) 
auracacia.com
Notes: Balsam Fir Needle
A lovely evergreen aroma, this will make your home smell like fresh pine with a touch of sweet notes. It really is a beautiful scent if you love that woodsy smell that is so reminiscent of Christmas and the holidays. 
Christmas Spirit  
$14.47 (Shop Now) 
youngliving.com
Notes: Orange, Cinnamon Bark, Spruce 
A definite fan favorite for a holiday essential oil blend! Their blend of orange, cinnamon bark, and spruce really warms the soul and I cannot stop diffusing this one. The Christmas Spirit blend is timeless and a great option to bring out when the winter months come. Fa La La LOVE. 
Christmas Morning 
$15.00 (Shop Now) 
revive-eo.com
Notes: Nutmeg, Orange, Clove, Cinnamon Bark, Pimento, Bay, Siberian Fir
If you're looking for a holiday scent that is more on the crisp, clean side of things then Revive's Christmas Morning is the perfect option versus spicier scents. It will make any room smell fantastic with the aroma of fir and nutmeg wafting through your home. Trust me, you'll see why Christmas Morning is a very appropriate name for this blend. 
Joyful Moments 
$20.95 (Shop Now) 
rockymountainoils.com
Notes: Orange, Spruce, Frankincense, Pine, Myrrh, Peppermint, and Cinnamon Bark
Joyful Moments is an uplifting holiday aroma that features a woodsy aroma and fruity undertones. This delectable blend features a strong aroma, which I highly recommend can be used all year long. The notes of peppermint and cinnamon evokes feelings of happiness and I love smelling this blend 24/7. 
Holiday 
$23.00 (Shop Now) 
Etsy.com
Notes: Orange, Cinnamon Bark, Spruce
Twig + Petal take pride in their products and they didn't miss the mark on their Holiday blend. Their blend certainly evokes the warmth of the season and is perfect for a cozy night in during a cool night. This delicate scent will certainly never want to make you leave the house or bed, for that matter. 
Holiday Cheer
$14.99 (Shop Now) 
naturesfusions.com
Notes: Orange, Nutmeg, Balsam Fir, Cinnamon Bark, Cassia & Vanilla Absolute
If you love the smell of fresh Christmas trees then this Holiday Cheer blend will be the one for you! It'll surely conjure those warm holiday feelings when you smell the hints of nutmeg, Balsam Fir, and vanilla. Diffuse this during a family gathering or on Christmas Day and the holiday cheer will commence! 
Candy Cane Lane 
$10.95 (Shop Now) 
edensgarden.com
Notes: Peppermint, Cinnamon Bark, Vanilla, Wintergreen
Candy Cane Lane is a favorite for so many! The smells of candy cane is nostalgic and it's perfectly captured in this bottle. This is not just your traditional peppermint. It almost has a delicious scent because of the sweet touches of cinnamon and vanilla that is added into this blend. Just a heads up, Candy Cane Lane might evoke feelings of hunger because your home will smell just like peppermint patties. Yum, yum, yum.
Winter Spice 
$12.99 (Shop Now) 
simplyearth.com 
Notes: Tangerine, Fir Needle, Balsam Fir
Winter Spice has the aroma of an Evergreen Tree with a touch of citrus. This would be another great choice for diffusing starting in the winter season. A woody aroma that perfectly captures the feelings of Christmas being right around the corner.
In Conclusion

 
Surely one of these 10 must-have holiday scented essential oil blends will become a favorite of yours for every holiday season. Here at MOXĒ, we love using essential oils in almost every facet of our lives - especially during the Christmas Season! Not only would gifting any of these mentioned essential oil blends make a perfect Christmas gift, but pairing it with MOXE's Holiday Essentials Bundle would make it that much better. 
So get your aromatherapy game up and start diffusing these holiday scents! Here at our MOXĒ HQ, our team wishes you a very Merry Christmas & a Happy New Year!