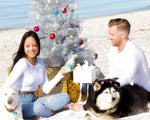 9 Unique Essential Oil Gift Ideas for Under $50
Are you looking for a unique gift for that essential oil enthusiast in your life, but shopping on a budget this holiday season? Well, you've come to the right place! 
In this article you will find a range of aromatherapy gift ideas that will make you an absolute hit during Christmas without breaking the bank. Because why not give the gift that keeps on giving?
In this gift guide, you will find my top 9 essential oil gift ideas for under $50, which I truly hope makes your holiday shopping a little more hassle-free this year.
1. 
Ultrasonic Ceramics Pineapple Diffuser
An essential oil diffuser is a must-have for anyone who loves aromatherapy, it is an amazing addition to any home or workplace. Many people love them for their many therapeutic benefits.
I personally love this Pineapple Essential Oil Diffuser because of its' adorable, clean look and color changing lights. This is a necessary item for those that love all things essential oils. 
$34.99 (Shop Now)
2. 

OUAI 

Chill Pills
Step up your bath game with these luxurious jasmine and rose scented bath bombs. Not only is the scent divine - the OUAI Chill Pill bath bomb provides a dreamy escape into a tranquil, spa like experience while hydrating and nourishing the skin. 
The notes of jasmine and rose makes these the holy grail for many aromatherapy lovers. You might need to buy 1, 2, 3.... or more. Because these make the perfect stocking stuffer.
$30.00 (Shop Now) 
3.
MOXĒ Premium Hand Soap Set
In such a time, soap is more essential than ever. Gifting hand soap is a great gift idea for all ages. MOXĒ's set of premium hand soaps are infused with essential oils and moisturizing qualities, like aloe and coconut oil. 
The soap set includes the fragrances Sweet Orange Jasmine, Vanilla Almond, Lemongrass Ginger, and Cucumber Aloe. They surpass quality compared to your ordinary hand soap. The scents are so delectable. Hand washing might become an obsession. 
 $14.99 (Shop Now) 
4. 
FEEL GOOD HUG™ Peppermint, Eucalyptus, Lavender Shoulder Wrap
A warming blanket that's infused with an essential oil blend of peppermint, eucalyptus, and lavender? Yes, you heard that right. FEEL GOOD HUG™'s Shoulder Wrap is the perfect present for those who love their spa time.
To use the wrap, simply heat it in the microwave until reaching the desired warmth. And voilà! Let any tension in your shoulders or back just melt away. 
 $45.00 (Shop Now) 
5. 
The 7 Virtues Peace Blend Perfume Set
The 7 Virtues Peace Perfumes stands for all the things I love in a brand. Each of the fragrances are vegan, hypoallergenic, cruelty-free, and fragranced with organic essential oils. The delightful scents in this set include Orange Blossom, Rose Amber, Vetiver Elemi, Grapefruit Lime, Patchouli Citrus, Jasmine Neroli, and Vanilla Woods. 
Gift her with this luxuriously scented set of perfumes fragranced using natural, organic essential oils and zero chemicals. 
 $29.00 (Shop Now)  
6.
Unwind Live Well Gift Set
Such a unique gift set! Especially for those who loves their stay-in-bed-all-day type of vibe. This gift set promotes the gift of soothing sleep by including a 100% cotton sleep mask, soy-blend scented candle with the aromas of orange blossoms, lavender, and cedar wood, a pillow spray, and a lavender grow kit. 
What I personally love about this set is being able to plant and tend to your lavender seeds, and watching your plant come to life. Making this the perfect wind-down activity before falling into a slumber. Unwind's set provides so many different aromatic qualities, and let's not forget that serene packaging. 
  $50.00 (Shop Now)  
7.
Homesick Holiday Stroll Reed Diffuser
Is that special someone you love obsessed with everything Christmas? Well, this reed diffuser by Homesick will ensure your home smells like the holidays even after Christmas is long gone. 
Their Holiday Stroll fragrance has lovely notes of red currants and sugar plums, with a hint of wild ivy, blackberries, and lemons. This diffuser's delightful scents will last for typically 2-3 months. So definitely gift this to someone who wants to keep the holiday spirit alive well into 2021.  
  $39.00 (Shop Now)   
8. 
Amazonite Essential Oil Diffuser Bracelet
Not only is this bracelet a-d-o-r-a-b-l-e, but it allows you to carry the benefits of aromatherapy around your wrist wherever you go!
This gorgeous little piece features 4 lava stones, which you simply need to add just 1-2 drops of your favorite essential oil blend to any one of them. The lava stones will then emit the calming scents you apply to them throughout the day. It's your own personal diffuser PLUS an everyday bracelet that can be worn with anything. 
 $30.00 (Shop Now)   
Another great stocking stuffer idea is this Moon Shower Adaptogen Spa Mist by Truly. Why is this product unique? Well it turns shower time into another level of chill with its formulation of adaptogenic herbs and calming essential oils like Eucalyptus.
All you need to do is spray 3-5 times into your shower and shower time turns into a heavenly spa oasis. This spa mist will work together to address the effects of stress and mind on the body, which then promote a more restful night of beauty sleep.