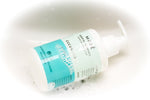 WHAT ARE THE INGREDIENTS IN MOXĒ PREMIUM HAND SOAP?
At MOXĒ, we believe personal care should not be ambiguous or complicated. We set out to make a premium hand soap made with simple, naturally derived ingredients that you can understand. 
Staying true to our values, we believe in total transparency and we promise to always provide you with all the information you need to make decisions for what goes on your body. 
We've constantly challenged ourselves to create clean, natural formulations with eco-conscious ingredients whenever possible, and have never tested on any of our animal friends.
When it comes to so-called premium hand soaps available on the market we often have to choose between ingredient quality and affordability. Sighs. 
We believe you shouldn't have to choose between ingredient quality and affordability so we developed our own right in our in-house lab. 
After months of testing and formulating, and more testing...MOXĒ launched four premium hand soap inspired by natural oils and plant extracts. 
Formulated with coconut-derived cleansers, aloe vera, essential oils, and plant-derived ingredients, MOXĒ Premium Hand Soap is delightfully fresh scenting hand soap helps remove dirt and oil without over-drying the skin. 
Here is a breakdown of ingredients of your favorite hand soap! 
Distilled Water
You know this one! Water is essential for all living things and is often the first ingredient in many cosmetic and personal care products.
We use distilled water since it has all ions or metals removed to help maintain product effectiveness. 
Water is a solvent that helps us dissolve all our ingredients together. 
Alpha Olefin Sulfonate
Alpha Olefin Sulfonate is our main cleanser as its mild anionic, high-foaming & well-emulsifying properties make it a great substitute to lauryl sulfates.
It has a pale yellow color and made primarily from coconut oils without over drying skin. 
This strong cleansing agent helps lift dirt and oils from your skins and its allows it to be washed away with water. Say bye-bye dirt and hello clean!
Coco Betaine
Cocamidopropyl betaine is a surfactant derived from coconut oil and helps our hand soap to mix with dirt and oils to be easily washed off with water. 
This ingredient acts as a skin conditioner, leaving behind a moisturized feeling after rinsing with no feeling of tightness. 
Decyl Glucoside 
Decyl Glucoside is a biodegradable nonionic surfactant derived from Cocos nucifera (coconut). 
Decyl glucoside is produced by the reaction of glucose from corn starch with the fatty alcohol decanol which is derived from coconut.
This ingredient helps us provide luxurious foaming while softly rinsing away any dirt and impurities without striping your skin of its natural oils. 
The result? This cleansing agent will leaving your hands feeling nourished and smooth. 
Glycol Stearate
We use vegetable-derived glycol stearate to help stabilize oil ingredients in out hand soap.
It also provides the lustrous pearling effect in our soap while adding thickness and body to the liquid soap. 
Vegetable Glycerin
Plant-derived glycerin is used as a soothing humectant, solvent and emollient in our hand soap. It leaves your hands feeling smooth and soft while working double duty to help bind and dissolve other ingredients such as guar gum. 
Fun fact: Glycerin can be used as a preservative if used at 50% or higher in a formula, but who wants such a sticky product? Not us! 
Essential Oils / 
Fragrance
Our special blend of essential oils and natural fragrance is what keeps you feeling and smelling good after hand washing. 
We use the minimum amount of fragrance and essential oils to create a pleasant aromatherapy experience. 
All fragrances we use are tested and free of the ingredients below.
• PTFE/PFOA
• STYRENE
• POLYACRYLAMIDE / ACRYLAMIDE
• ACETALDEHYDE
• ACETONITRILE
• METHYLENE CHLORIDE
• ANIMAL FATS, OILS, AND MUSKS
• BENZALKONIUM CHLORIDE
• TOLUENE
• RESORCINOL
• ACETONE
• BUTOXYETHANOL
• ETHYLENEDIAMINETETRAACETIC ACID
• METHYL CELLO SOLVE
• METHYLISOTHIAZOLINONE
• METHYLCHLOROISOTHIAZOLINONE
• MERCURY, MERCURY COMPOUNDS (THIMEROSAL) AND BISPHENOL A (BPA)
If you have super sensitive skins, we advise to patch test as fragrances and essential oils can irritate sensitive skin despite being natural! 
Coconut Oil
Our key ingredient, coconut oil is rich in vitamins and minerals and provides a beautiful silky texture to our soap. This precious emollient leaves your hands feeling smooth and conditioned. No more dry hands after washing! 
Natural whole coconut oil, not fractionated, is obtained by expression from the kernels of the seeds of cocos nucifera.
Contains 45-48% lauric acid, 16-18% myristic acid, 8-10% caprylic / capric acid, and other valuable fatty acids. A great combo for dry and irritated hands.
Aloe Vera Leaf Juice
This powerhouse ingredient comes for the hollow interior of the leaves of the Aloe plant. 
It has been used topically since ancient times for its skin soothing properties.
Not only does this ingredient help with your hands feel more supple, it acts as a potent moisturizer while soothing and invigorating your hands. 
Guar Gum

Guar gum is naturally derived from the seeds of the guar plant, cyampopis tetragonolobus.
This natural ingredient acts as a thickener and stabilizer for our products. It makes our products less runny and more gel-like.
Guar gum also provides great conditioning properties to our soap which means super soft hands after each wash. 
Preservatives
Staying true to our values, our soap are free of parabens and is formaldehyde-free!
Instead we use an active blend of cosmetic grade phenoxyethanol, sorbic acid and caprylyl glycol which offers effective protection against bacteria, yeast and mold growth.
It also helps provide our soap with some skin softening properties! 
Citric Acid  
Citric acid naturally comes from citrus fruits. It found in most food, skin and home care products. 
We use citric acid to help balance pH levels in our soap to keep it safe and effective for everyday use. 
Shop The MOXĒ Premium Hand Soap Collection 
You can shop our latest hand soap collection right here.
Find out which essential oil blend best matches you! 
Cucumber Aloe
Our refreshing Cucumber Aloe hand soap combines the fresh, cooling scent of cucumber and best natural moisturizer- Aloe Vera to create a nourishing hand that eliminates germs quickly and effectively. 
$3.99 (Shop Now)
Lemongrass Ginger
Our zesty and calming Lemongrass Ginger scent will keep your cleaner than ever with it's naturally occurring antibacterial qualities and harmonious healing power.
$3.99 (Shop Now)
Vanilla Almond
Our vanillicious Vanilla Almond is the perfect pairing of sweet vanilla and almond creating a rehydrating, moisturizing and nourishing hand wash that cleans hands without over-drying the skin.
$3.99 (Shop Now)
Jasmine Sweet Orange
Our sweet, floral Jasmine Sweet Orange hand soap is one for all the senses. Breathe deep and let the refreshing sweet blend soothe and relax you while keeping clean and germ-free. 
$3.99 (Shop Now)