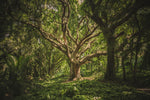 What is Copaiba Essential Oil?
Copaiba may not be one of the most well known essential oils, however, it has been used for hundreds of years by the native people of northern Brazil. 
Copaiba essential oil is derived from the sap (or resin) of the copaiba tree, of which there are more than 70 identified species of copaiba trees, many of them located in Central and South America. These trees can reach 100 feet in height, and have been known to live for up to 400 years. 
The resin of the copaiba tree is extracted throught means of tapping, similar to that of how maple syrup is obtained. This is done by punching a hole in the trunk of the tree, inserting a pipe into the hole, and allowing the resin to flow out. 
Steam distillation is then used to extract copaiba essential oil from the copaiba resin. 
Both the copaiba resin and essential oil is thought to provide its user with some health benefits.
Uses and Benefits
Aromatically, copaiba essential oils holds a fresh and woodsy aroma. It is believed to have a positive impact on mood, promote a calm and inviting enviroment, and support overall wellness.
Some individuals have also experienced some pain relief benefits from the topical use of copaiba. This benefit was tested by individuals with arthritis, and was reported to provide more pain relief, and increase finger strength and dexterity. 
Some individuals may also see some relief from muscle aces and pains when copaiba oil is applied topically. In addition to copaiba essential oil, lavender oil is also believe to be useful when it comes to relieving pain and inflammation, while also contributing to a calm and relaxing environment. 
If you are experiencing joint or muscle pain, try mixing 1 to 2 drops of copaiba oil, 1 to 2 drops of lavender essential oil, and 1 oz of your choice of carrier oil (such as coconut, jojoba, grapeseed, rosehip, or olive oil). Rub the mixture gently into the skin around the areas you are experiencing pain. 
Other essential oils that go great with copaiba oils include lemon, orange, cedarwood, and clary sage. 
Copaiba is thought to possess antimicrobial and anti-inflammatory properties. These qualities may be able to help ward off harmful bacteria that may cause skin and wound infections, and may be able to lower the prominence of molecules associated with inflammation, while reducing oxygen radicals that can lead to cellular damage.
Copaiba is also thought to aid in the recovery from a variety of infections including strep throat, gonorrhea, and bladder infections.
Safe Usage
Essential oils are really strong and concentrated, and if you are planning on using any essential oils topically, you'll want to mix your essential oils with a carrier oil such as coconut, jojoba, grapeseed, or rosehip oil.
If you are unaware of how your skin will react to a specific essential oil (or carrier oil), start with a small amount of diluted oil to an isolated patch of skin (either on the back of the hand or on the forearm is recommended). If any irritation occurs, you may want to discontinue use of, and consult a healthcare professional. 
To make sure you dilute to the proper ratio, follow the guidelines suggested by the National Association for Holistic Aromatherapy (NAHA) recommendations.
Ingesting any essential oils is typically discouraged, unless otherwise instructed by a healthcare professional, and oral use may lead to more harmful effects than benefits.
Ingesting copaiba essential oil may cause digestive issues such as nausea, vomiting, and diarrhea. 
Interested in learning about other essential oils?
Check out some of our other blogs for: Geranium Essential Oil, Vanilla Essential Oil, Lime Essential Oil, Bergamot Essential Oil, and Lavender Essential Oil. 
Conclusion
Derived from a variety of species of copaiba trees native to South America, copaiba essential oil can be used aromatically to promote a calm and inviting environment. Topically, copaiba essential oil may have some benefits including reducing aches and pains of muscles and joints.