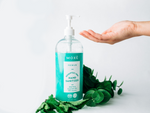 MOXĒ Launches New Premium Eucalyptus Mint Hand Sanitizer Gel
Cool, crisp, and refreshing... MOXĒ has unveiled the newest addition to their premium hand sanitizer gel collection. Available on BeMOXĒ.com and Costco stores nationwide this August. 
This newly scented hand sanitizer provides skin-softening properties while killing 99.9% of illness-causing germs. 
The Essential Oil Blend: Eucalyptus Mint
The 32 oz MOXĒ Eucalyptus Mint Hand Sanitizer features an herbaceous, light woodsy note that works for the whole family.
It smells like an aromatic eucalyptus herb in which sweet mint is lightened by a touch of citrus and cedar. This subtle scent will keep your hands feeling fresh and clean all day. 
The Process
MOXĒ manufacturing facilities are all 
FDA-registered and located right here in the USA.
 MOXĒ complies with all federal regulations, boasting a high standard of quality and efficacy while
 maintaining a cruelty-free philosophy.
The Ingredients  
Formulated with 70% Ethyl Alcohol and classified as an over-the-counter (OTC) drug registered with the FDA, the new hand sanitizer is infused with essential oils, vitamin E, and Aloe Vera. This formula, as always, is made without parabens, artificial colors, dyes, or synthetic fragrances. 
Safety First
Each batch of MOXĒ hand sanitizer is tested for compliance with FDA quality standards.  Our hand sanitizers are proudly manufactured in the USA and none of our products appear on the FDA's Methanol Contaminated Products List.
We promise safe, effective, and affordable products made cruelty-free and with the highest quality ingredients with a 100% satisfaction guarantee or your money back. 
This is our MOXĒ Promise.  
Available Now 
Shop single Eucalyptus Mint 32 oz hand sanitizer for $15.99 or save with a 4 bottle pack for $49.99.
Get your alcohol-based sanitizer now, and stay safe on-the-go.
About MOXĒ
MOXĒ is a manufacturer of innovative health and wellness products focused on complementing any lifestyle. With our holistic approach, we add custom essential oil blends in everything we create and ensure every product is made with the highest quality ingredients to support clean living and peace of mind.
Visit MOXĒ at https://bemoxe.com/ or follow us on Instagram and Facebook: @bemoxe