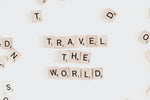 6 Essential Items for Staying Clean and Safe On-the-Go
In today's world, we are more aware than ever of the viruses and bacteria that surround us constantly. With this being said, finding the right cleaning products can be difficult, and almost impossible when you're looking for options that are travel sized, and easily portable. We have put together a list of natural essential oil cleaning products, as well as essential hygiene items, that are great if you're consistently on the move.
Multi-Surface Cleaning Spray
Just because a surface looks clean, doesn't always mean it's clean enough. For this reason, we suggest MOXĒ Lemongrass Oil Multi-Surface Cleaning Spray. Made without any harsh chemicals, and is derived from plant based ingredients and essential oils, MOXĒ Multi-Surface Cleaning Spray is portable, non-toxic, and ready to clean almost any surface you may come in contact with. This makes it almost a must-have item whether you're going out to eat, grabbing groceries, or even just to use in your own house. 
Yoga Mat Cleaning Spray
If you're planning on taking a yoga class, or even going to the gym, you may be concerned with keeping your mat or public equipment clean before and after you use them. Available in two scents, Lavender Chamomile and Rosemary Lemon, MOXĒ Yoga Mat Cleaning Sprays can be a great gym bag addition to keep your equipment smelling fresh and clean. 
Hand Sanitizer
Keeping your hands clean is always important wherever you go, and carrying a 32 oz bottle of hand sanitizer can be, well, impractical. For this we recommend, utilizing a refillable travel sized bottle to take advantage of the value of buying in bulk, without losing the convenience factor. 
Natural Breathe Mints
Bad breath? If you're looking for a great way to keep your breath fresh, but without some of the artificial ingredients, we recommend Simply Mints. Simply Mints are made without artificial ingredients, are vegan, and come in a variety of flavors including peppermint, ginger, and cinnamon. 
Clean Ingredient Deodorant
One of our favorite options for deodorant is by Native. All of their products utilize clean ingredients and are cruelty free. They even have a mini option available that fits perfectly in your pocket, so you can keep your underarms smelling great all day, even if you need to reapply. 
On-the-Go Stain Remover
Tide To Go Wipes are a great option to remove stains when you are out of the house. The tide wipes do not contain bleach, making them safe for all, if not most, fabrics. They are individually wrapped to maintain freshness of each of the wipes, making it easy to keep one or two in your bag, or in your car. 
Conclusion
Being constantly on the go can be stressful, but staying clean and safe doesn't have to be. Whether it's germs, body odor, bad breathe, or stains that you're worried about, being prepared ever where you go can give you a little piece of mind.