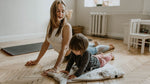 International Yoga Day: Mindset, Mindfulness, and Meditation
International Yoga day was first celebrated in 2015, however the practice of yoga (which originated in India) has been around for about 5,000 years.
Originally developed as a method of pursuing enlightenment, yoga is a practice focusing on connecting the mind, body, and soul, and has grown in popularity around the world as a means of exercise, meditation, and relaxation.
Our mindset greatly affects the way we react to, perceive, and interact with others, and is also important when practicing yoga. Not always easily manipulated, our mindsets can (at times) have a negative impact on our interactions and our mental state. 
One aspect of yoga that is key to shaping mindset is mindfulness.
Mindfulness is the sate of awareness we obtain when we are consciously acknowledging our thoughts, feelings, and physical sensations, and how they are affecting us. This can be beneficial when practicing yoga, meditating, and can even carry over into our everyday life.
Importance of a healthy mindset
Being aware and in control of our bodies, thoughts, and feelings can sometimes feel unobtainable, but through the practice of meditation we can come to peace with our thoughts, reshaping our attitudes and perspectives.
When we have a healthy mindset, our problems don't seem bigger than we are, but are framed as more manageable. A positive mindset allows us to focus on obtaining a resolution to problems, and do so without contributing to additional mental stress in the process. 
Ways to improve your mindset
One way to practice mindfulness, both on and off the yoga mat, is by releasing your thoughts and shifting focus towards your breathing. This can be done at any point throughout your day, and even just a minute at a time can be beneficial in regaining mental balance and perspective.
Our mindset is also influenced by our level of physical comfort and rest. It's no secret that when we feel tired or have physical discomfort we have a harder time focusing on other things. By maintaining a healthy sleep schedule, diet, and hydration levels can lay the groundwork for obtaining mental peace. 
We can also control our mindset by writing and reciting affirmations and goals we have. This allows us to contribute to our own positivity and shift our focus from thoughts that can negatively affect us.
How to set up the perfect meditation space
While meditation can be practiced anywhere, we greatly recommend setting aside the time to retreat away from the noise of the day and find a space where you can be alone, reflect, and breathe. 
While mindfulness is being aware of yourself, thoughts, feelings, emotions, and being present in the moment, we can also be mindful of our physical sensations and external stimuli via the stimulation of our 5 senses. 
One of the easiest and most influential ways we can use our senses to alter our moods and perspectives is through our sense of smell. 
MOXĒ Peace essential oil blend is thoughtfully crafted with delicate notes of bergamot, mandarin, geranium, and lime, making it perfect for creating a calm and relaxing space for meditating. MOXĒ Peace is available as an essential oil blend, portable nasal inhaler, personal diffuser, and room and linen spray. 
Conclusion
Through the means of meditation and mindfulness we are able to recenter and reconnect with ourselves. Just setting aside a few minutes a day can have a large impact on our mindset and perspective, giving us the strength and patience to deal with day to day stress.