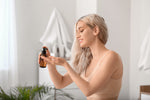 12 Best Essential Oils for Skin Elasticity and Skin Tightening
If you're reading this, chances are that you're searching for the best essential oils for skin elasticity.
Of course, aging comes with undesirable skin concerns, including wrinkles and fine lines, which are most visible around your eyes, forehead, and mouth. 
As we grow older, gradually, the skin loses its firmness and sags - a condition known as elastosis or the loss of skin elasticity.
While essential oils are praised for their therapeutic abilities, could they also help with skin elasticity? 
In this article, we share the 12 best essential oils to help with skin elasticity.
But first...
WHAT IS SKIN ELASTICITY?
Skin elasticity measures how much your skin can stretch back to its original shape. When the skin loses this stretch-back ability (usually due to aging), it begins to look crinkled, leathery, or saggy.
Though natural, these transformations can be troubling. Of course, everyone wants to stay forever young. Who doesn't? 
While commercial skin products often claim to help with skin elasticity and antiaging ingredients, they always seem to underdeliver, and results are barely noticeable.  
That leaves us to wonder if essential oils could help with skin elasticity. 
Studies suggest that certain essential oils may help with skin elasticity and aging. 
While essential oils may not completely undo these natural effects, certain essential oils can help reduce aging speed and keep your skin softer and youthful for longer. 
Indeed, essentials are a way more promising natural option to chemical-packed topical applications on the beauty market. 
12 RECOMMEND ESSENTIALS OILS TO HELP WITH SKIN ELASTICITY
Here are some essential oils you can infuse into your daily skincare routine for a smoother and more elastic skin texture.
Jasmine
Typical of essential oils, jasmine contains properties that encourage blood circulation and encourage skin cell regeneration. These newly generated cells promote skin hydration, offer more elasticity, and reduce wrinkles and even scars. 
Lemon
Lemon's rich Vitamin C concentration provides excellent antioxidant protection for the skin. Vitamin C is a common ingredient in most commercial skincare products for brightening skin tone and reducing aging signs like fine lines and wrinkles.
Lemon oil, according to studies, may help manage the adverse effects of oxidation as well as sun damage which often result in wrinkles.
Lime
Lime essential oil may help combat the effects of aging on your skin. The oil's antioxidant property provides many skin benefits, including deep wrinkles, dark spots on the skin, skin dryness, fine lines, and increase skin elasticity.
Although there is no "magic oil" to take your skin two decades back overnight, lime oil contains some prized antioxidants like limonene. However, if you have sensitive skin, you should avoid products with limonene as it may cause skin irritations. 
Sandalwood
Sandalwood comes with antioxidant and anti-inflammatory properties, which make it a mainstay of Ayurvedic treatment practices. This content fights free radicals, curb oxidative stress and leave your skin healthy, young and healthy.
Clinical trials show sandalwood may help manage psoriasis, warts, eczema, and acne, keeping skin healthy and retaining its elasticity. 
Lavender
Lavender is one of the most popular essential oils popularised for its unique calming aroma. This effect is a favorite ingredient in many aromatherapeutic products. 
Lavender essential oil is one of the most extensively researched oils. Among the countless studies, a 2013 article says lavender may serve as an antioxidant. Lavender can be applied topically to the skin once diluted in a carrier oil. Its chemical composition helps rid fine lines and wrinkles.
The research authors think more studies are needed to verify these claims. There have been reports of adverse lavender reactions, so it is best to always patch-testing essential oils.
Learn more about patch-testing and how to conduct your own patch-test here. 
Rose
Researchers have found some antibacterial, antioxidant and anti-inflammatory properties in rose plants. These properties, in turn, helps inhibit the skin's redness and puffiness and keeps skin elasticity in check.
Rose oil remarkably renews skin cells, which leaves the skin young and supple.
Ylang ylang
Besides being a common ingredient in many perfumes, Ylang ylang essential oil contains antioxidants that help skin rejuvenation. 
Notably, this essential oil helps combat free radicals and resupplies the skin's fats and proteins. 
Bergamot
Bergamot delivers an incredible fragrance. In addition to bergamot's relaxing and calming effects, bergamot's anti-inflammatory and antibacterial components are shown to be beneficial for maintaining healthy skin and elasticity. 
However, due to its astringents and high potency, you should consider something else for sensitive skins. 
Frankincense
Frankincense oil is known for its tiny molecular structure, which efficiently delivers some unique effects into the skin—shielding the skin cells and encouraging the formation of new cells. This oil also helps the skin stay oxygenated, in turn promoting elasticity.
Frankincense has become a confident choice for skin tightening for its desirable effects, particularly for wrinkles and fine lines around the eyes.
Geranium
This candy-colored flower creates an undoubtedly distinct aroma with many skin-enhancing properties. Geranium oil is thought to manage anxiety, stress, and fatigue, which may have visible adverse reactions on the skin.
Geranium essential oil is commonly used for skin inflammations like dermatitis and acne. It performs this by helping the skin maintain its natural balance and promote skin cell regeneration. It's arguably among the best essential oils for skin elasticity as its antibacterial and antiseptic components promote fast rejuvenation of skin cells.
Neroli
Neroli comes in handy for several skincare applications - from managing scars to alleviating pain and inflammation.
Researchers link the oil to some potent antioxidant and antimicrobial properties, making it essential for skin health. Note that results from this oil may come but after about a month. 
Although one of the most expensive essential oils on the market, neroli is a worthy additionto your skincare regimen.
Grapefruit 
Grapefruit can promote your skin's health by preventing or managing acne and related skin conditions.
Grapefruit essential oil is a common ingredient in many face creams and lotions - not just for its relaxing scent, but the highly potent antioxidant and antibacterial content. 
Grapefruit can contribute a great deal to bacteria-free, elastic skin. 
ESSENTIAL OIL BLENDS FOR SKIN ELASTICITY
While it may not be possible to buy and use every essential oil to help with skin elasticity, you may want to consider using a carefully crafted blend of skin-boosting oils like MOXĒ Love blend.
Using only 100% essential oils, MOXĒ Love features rose, jasmine, sandalwood, bergamot, lemon, and lime oils which are regarded as the best essentials oil to help with skin elasticity.
HOW TO APPLY ESSENTIAL OILS FOR SKIN ELASTICITY 
Applying essential oils on the skin is no rocket science. However, note that these oils can be toxic or irritating if used undiluted without a carrier oil. 
Carrier oils are commonly used to dilute the essential oils before using them for your skin. From personal experience, any of these oils will do:
Almond oil

Coconut oil

Grapeseed oil

Jojoba

Olive

Rosehip
Before you apply, ensure the oils (essential oils and carrier oils) are thoroughly mixed. That said, here are common essential oil-carrier oil recommendations for facial use:
Normal Skins
Mix 5 drops of your choice of essential oil or oil blend to an ounce of carrier oil
Sensitive Skins
Add 3 drops of your choice of essential oil or oil blend to an ounce of carrier oil. 
NOTE: Patch testing a day before using the application on your entire skin is advised. If you do not see irritations after 24 hours, you can use the essential oil mixture over your body as you wish. 
If you notice any irritations or discomforting effects, discontinue usage immediately and consult a dermatologist before trying out any other skincare variant on your skin. 
BENEFITS OF PLANT OILS WITH ESSENTIAL OILS TO HELP WITH SKIN ELASTICITY
Besides reducing the irritation effects of essential oils, plant-based carrier oils can improve your skincare results a great deal. These oils come with their unique skincare properties. 
They are lightly fragranced and have a thicker texture, making them an ideal blend with essential oils for skin elasticity.
Carrier oils support essential oils to improve the feel and look of your skin. When infused in appropriate proportions, these oils help modulate oil production, deliver anti-aging benefits, and help keep your skin [and hair] hydrated. Feel free to experiment with these oils and see which suits your skin best.
EASY DIY SKIN FIRMING ESSENTIAL OIL-INFUSED JOJOBA OIL 
Here's a quick step-by-step guide to making an essential oil blend infused with one of the most sought-after carrier oils in the skincare world - Jojoba oil.
DIY GLOW SERUM FACE OIL
Ingredients 
1 ounce Dropper bottles

1 ounce of natural jojoba oil

4 drops of MOXĒ Love or any essential oil mentioned above.
Direction 
Add 4 drops of your

MOXĒ Love oil

into your dropper bottle

Fill up the space with your plant-based jojoba oil, allowing a little room for the dropper to fit back

Shake properly to ensure a thorough mix

That's it
Apply this luxe on your face twice daily. 
Precautions
Before you jump at using essential oils on your skin, remember these oils are potent and could cause a range of discomforting skin conditions, including:
rashes

swelling and redness

runny nose

sneezing 

bumps

hives

itchiness
In severe but rare cases, these conditions can cause anaphylaxis. Seek immediate medical guidance if you experience any abnormal effects or breathing issues. 
Always use a carrier oil for essential oils. Never apply these potent oils directly to your skin.
Avoid ingesting essentials as they can be toxic and may trigger severe health damages. 
Tips for buying the best essential oils for skin elasticity and skin Tightening 
Always opt for a pure 100 percent natural industry-grade essential oil with no additives. You may need to do your homework to get your oils from a reputable brand. Importantly, check product reviews and brand reputation. Ask for the oils certificate of analysis as it verifies and confirms the oils are safe to use. 
Companies that are transparent about their practices and willing to take your questions and inquiries are always a good sign.  
TAKEAWAY
As much as we hate it, aging is a natural part of life. Our skin that was once firm and tight now shows signs of wrinkles and has lost its elasticity. It is only a natural tendency to desire to stay looking younger for longer. However, hope for more youthful, tighter skin may only be a drop away.
Research findings, backed by clinical and anecdotal evidence, suggest that regular topical application of essential oils could make a more skin-friendly replacement of the chemical-laden commercial products found in cosmetic stores. The best oils for to help with skin elasticity and tightness include Jasmine, Lemon, Lime, Sandalwood, Lavender, Rose, Ylang ylang, Bergamot, Frankincense, Geranium, Neroli, and Grapefruit oils. 
Essential oils not only provide beneficial effects to your skin; they could double as an aromatherapeutic agent to offer relief from cold, headache, anxiety, and stress.
While the listed essential oils are relatively safe, avoid using undiluted essential oils on your skin or contacts with the eyes and other sensitive areas. Plus, essential oils can be highly toxic  not safe for oral consumption, especially with pets.