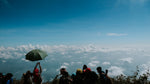 ESSENTIAL OILS FOR ALTITUDE SICKNESS
One of mountaineers' worst fears is falling ill a few thousand feet above sea level. Whether for newbies or experienced mountaineers, altitude sickness is a common concern and may be life-threatening to some climbers.
If you are an avid mountain climber, then you are familiar with the nasty symptoms that are accompanied by altitude sickness. Minimizing the effects of altitude should be on the minds of every mountaineer despite your experience level. 
While you may not get an overnight treatment, natural solutions can help prevent the condition. Among other options, essential oils are a worthy all-natural consideration to help you stay healthy while at high elevations.
Before we delve into essential oils for altitude sickness, let's discuss altitude sickness.
WHAT IS ALTITUDE SICKNESS?
There's a lack of oxygen at high elevations, naturally. This situation triggers a health condition called Altitude Sickness.
Mountaineers are more exposed to this sickness anywhere between 8,000 and 18,000 feet - mostly for persons who are unfamiliar with such heights.
Although altitude sickness can be mild, it could as well turn unpredictable and life-threatening. 
How do you know if you have altitude sickness? 
SYMPTOMS OF ALTITUDE SICKNESS
You may notice altitude sickness symptoms immediately or a while after exposure to such heights. 
Whether sooner or later, here are common symptoms to watch out for: 
Nausea

Frequent headaches

Vomiting

Weakness or fatigue

Short breaths

Increased heartbeats

Insomnia
While these symptoms are mostly mild, some more severe signs include: 
Regular coughs – sometimes with blood

Tightness in the chest region

Mental clutter

Skin discoloration

Reduced consciousness or total unconsciousness

Short breaths
If you experience any severe symptoms, seek medical attention immediately. 
TYPES OF ALTITUDE SICKNESS
Based on severity, altitude sickness is grouped into three. Quickly, let's discuss them:
ACUTE MOUNTAIN SICKNESS (AMS)
AMS is considered the commonest of all altitude sickness. Its symptoms mimic a typical 'high' as obtainable from alcohol consumption - including dizziness and irregular movements.
HIGH-ALTITUDE CEREBRAL EDEMA (HACE)
Acute and chronic AMS may lead to HACE. Put merely, HACE is the severe form of AMS.
HACE causes a swell in the brain, which inhibits its normal functions. The symptoms include irritability, drowsiness, movement troubles, and cerebral confusion. 
HIGH ALTITUDE PULMONARY EDEMA (HAPE)
HAPE is a severe form of HACE. However, your altitude sickness may start from here. 
This condition is caused by a buildup of excess fluid in the lungs, which may inhibit its functioning. 
Weakness, breathlessness, severe coughs are typical symptoms of HAPE. 
If you suspect HAPE, treat immediately. To treat, lower altitude, or take supplementary oxygen. If left to unattended to, HAPE may turn fatal. 
WHAT CAUSES ALTITUDE SICKNESS?
Of course, high altitude.
If your body system is not used to high elevations, it may quickly show altitude sickness symptoms. As the elevation increases, oxygen reduces. This is a typical cause of your altitude sickness.
That said,
common risk factors
that increase the risk of altitude sickness include, mainly:
Too-quick accession

Going up over 1600ft. a day

History of acrophobia (fear of heights)
If you suspect altitude sickness, do well to consult your physician for a more accurate diagnosis. 
ALTITUDE SICKNESS DIAGNOSIS 
After asking crucial questions about your symptoms, your doctor may:
Check your heartbeat (with a stethoscope) for fluid accumulation or shortness of breath. 

Recommend an x-ray to check for lung collapse or fluid accumulation. 
While there is hardly ever any overnight treatment for altitude sickness, you can reduce the risk of altitude sickness on your next climbing. One sure all-natural way to this is the use of essential oils.
ESSENTIAL OILS FOR ALTITUDE SICKNESS
Some essential oils have been proven effective to remedy altitude sickness on-the-go. 
Whether you look to breathe easier, ease nausea, improve blood circulation, or relieve headache, topical and aromatic application of essential oils can help. 
Quickly, let's take a lot at some of these essential oils. 
PEPPERMINT ESSENTIAL OIL
Here's one of the most effective essential oils for nausea and pain. A quick way to use diluted oils is to use a roller blend. When pre-diluted in your roller bottle, you can safely rub it on your skin without any skin sensitivity scare. 
If you feel any slight symptoms, like headache, simply roll your diluted peppermint oil on your temples.
For nauseous signs, roll peppermint essentials and gently massage onto your lower abdomen. 
Better still, you may sniff into your essential oil bottle, gently, for additional relief. 
EUCALYPTUS ESSENTIAL OIL
Here's another thoughtful option if you have a short breath symptom. Eucalyptus is thought to clear up your bronchial route and ease breathing. 
You can mix this essential oil with a carrier oil and massage, mildly, on your chest. You may also sniff the content directly from the bottle. 
THYME ESSENTIAL OIL
When it comes to healthy blood circulation, thyme essential oil comes handy. This oil encourages blood flow to parts of the body lacking oxygen – particularly when at higher altitudes. 
For best results, mix with carrier oils, apply to your feet soles, and massage gently. 
MOXĒ ESSENTIAL OIL NASAL INHALERS
Yet another convenient option is to bring an aromatherapy nasal inhaler like the MOXĒ Breathe Nasal Inhaler.
Made by MOXĒ scientists, the Breathe Nasal Inhaler features a cooling essential oil blend of Peppermint, Eucalyptus, Tee Tree, Lavender, and Cajeput and Pink Himalayan Salt. 
Its compact design provides easy portability making it perfect for your next high altitude adventure.
BEFORE YOU GO HIGH ELEVATION…
Here are a few things to do if you ever plan to go above 8000 feet altitude:
HYDRATE
Start a good water-drinking routine about a week before your exposure to high altitudes. This helps familiarize your body system with enough water and as well, allows you to maintain a good fluid level before you set out. If you have a hard time drinking plenty of water, a squeeze of lemon in your water will encourage you to have more. 
BOOST YOUR BLOOD FLOW
Before your trip, iron-rich foods will help strengthen and fortify your blood cells. In turn, fortified blood cells help accumulate oxygen and improve perseverance. 
Dark leafy greens, lentils, raisins, dark chocolate, black beans, grass-fed meats, beets, and liver are typical natural iron-dense meals. 
CONSUMING OXYGENATING FOODS AND SUPPLEMENTS
Start this 2 to 4 weeks before your trip. This helps boost your lung functions and also will boost the oxygen capacity of your blood cells. 
CONSIDER SUPPLEMENTAL OXYGEN
Traveling to locations with altitude heights over 5,000 feet above sea level can result in lower oxygen levels in the body. Forty percent of people who visit high altitude locations like Denver and the Colorado Rockies can experience symptoms of altitude sickness. 
Companies like BOOST OXYGEN allow you to carry supplemental 95% oxygen in a convenient, portable, super lightweight canister. 
Did you know the air we breathe contains only 21% Oxygen – the majority is 78% Nitrogen? Merely increasing your altitude to above 5,000 feet above sea level will dimmish your effective oxygen by 20%. Yikes! Now consider the following:
 

At 5,000 feet above Sea Level (Denver, CO), there is approximately

20% less

 effective oxygen in the atmosphere. 

At 8,000 feet (Aspen, Vail, Park City, Jackson Hole, etc), there is approximately

29% less

effective Oxygen in the atmosphere. 

At 10,000 feet (Breckenridge, CO) there is approximately

33% less

effective Oxygen in the atmosphere. 

At 12,000 feet (Mt. Baldy, Mt. Hood) there is approximately

38% less

effective Oxygen in the atmosphere. 

At 14,000 feet (Pike's Peak, Mt. Whitney, Mt. Rainer) there is approximately

43% less

effective Oxygen in the atmosphere. 

At 19,000 feet (Mt. Kilimanjaro) ere is approximately

52% less

effective Oxygen in the atmosphere. 

At 29,000 feet (Mt. Everest), there is approximately

66% less

effective Oxygen in the atmosphere.
TRAIN AND STAY FIT
Before you aim for a 14,000-foot height, practice with smaller mountains. Well, if you insist without enough training, altitude sickness is most likely, as your body is alien to such conditions.
CONCLUSION
Altitude sickness causes severe discomforts. However, early diagnosis is one good way to handle the condition. Make sure you are mindful of any symptoms you may experience while in high altitude environments. 
Understanding the different types of altitude sickness may reveal the severity of the condition such as Acute Mountain Sickness (AMS) or High Altitude Pulmonary Edema (HAPE).
Those seeking a natural approach to altitude sickness may find relief with essential oils like peppermint and eucalytpus oil.
Alternatively, aromatherapy nasal inhalers may be the best option for active individuals at high altitude. The portable design provides convenience and functionality for those who find find relief from essential oils medicinical properties.
As preventive measures, ease your way up to higher elevations, maintain proper hydration, and importantly have your essential oils handy. 
With these, you can enjoy your high altitudes with little or no fears.