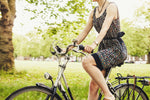 NATURAL REMEDIES FOR SWEATING AND BODY ODOR
Sweating is completely natural, but sometimes we sweat at inconvenient times or excessively which can obviously be annoying and uncomfortable.
Most commonly, we sweat due to environmental factors such as weather, temperature, and physical activity. And our body's main reason for sweating is to regulate body temperature and to help prevent itself from overheating. 
There are a number of factors that come into play in regards to the amount of sweat our body produces and the body odor that may come along with it. 
Well first, pure sweat really doesn't have any odor to it, but when it's combined with the bacteria that lives on our skin, it can start to get stinky!
Also, what we eat can have a temporary impact on sweat production and body odor. Spicy foods can make us sweat, and foods such as cruciferous vegetables, red meat, garlic, and onions can have a significant change on our body odor, due to the amount of sulfur they contain.
Clothing fabrics can also play a role in the amount of sweat our body produces. And genetics, age, weight, emotional stress, and hormonal changes such as puberty and menopause can also affect the amount that some people can sweat.
ESSENTIAL OILS FOR SWEATING AND BODY ODOR
Some essential oils are thought to possess antimicrobial, antibacterial, and anti-fungal properties which may help some individuals with the body odor that comes along with sweating. 
Lemon Essential Oil
In addition to being light and refreshing, lemons are acidic by nature and may be able to slightly change your body's PH level and inhibit the growth of bacteria. 
Lavender Essential Oil
In addition to being known as a sleep aid and helping with relaxation, lavender essential oil is also an antimicrobial which can stop breaking down substances in your sweat and keep you smelling fresh. 
Tea Tree Essential Oil
Tea tree oil possesses antimicrobial, anti-fungal, and antibacterial properties that can eliminate fungi and bacteria, and help reduce odors. 
Other essential oils that may help fight off bad body odor from sweating include:
Clary Sage Essential Oil

Lemongrass Essential Oil

Parsley Essential Oil

Radish Seed Essential Oil 

Roman Chamomile Essential Oil

Rosemary Essential Oil

Sage Essential Oil
(The above essential oils are all believed to possess antimicrobial, antibacterial, or anti-fungal properties, which in turn may help some individuals with the body odor that comes along with sweating.)
If you are experiencing higher levels of perspiration due to stress or anxiety, you can diffuse MOXĒ Peace Essential Oil Blend to create a tranquil mood in any room or space. This blend is made with 100% essential oils including Bergamot, Mandarin, Geranium and Lime and is perfect for those stressful days!
SAFE USAGE
When using essential oils topically, always dilute pure essential oils in a carrier oil (such as coconut, jojoba, avocado, or almond oil) before applying to the skin. 
If you are unaware of how your skin will react to a specific essential oil (or carrier oil), start with a small amount of diluted oil to an isolated patch of skin (either on the back of the hand or on the forearm is recommended). If any irritation occurs, you may want to discontinue use of, and consult a healthcare professional. 
To make sure you dilute to the proper ratio, follow the guidelines suggested by the National Association for Holistic Aromatherapy (NAHA) recommendations.
OTHER NATURAL ANTIPERSPIRANTS
Apple Cider Vinegar
By diluting in water and dabbing problematic areas with a cotton ball regularly before bed, apple cider vinegar may may help some individuals control both excessive sweating and body odor.
Baking Soda
Alkaline in nature, baking soda may help regulate pH levels and balance acids in sweat that can promote bacteria growth. 
Coconut Oil
Coconut oil contains lauric acid which may help kill bacteria on the skin that can cause body odor. 
Aloe Vera
If you are experiencing excessive sweating due to heat, aloe vera may provide a cooling effect and reduce sweating when dabbed onto problematic areas with a cotton ball.
Witch Hazel
Witch hazel also may help some individuals reduce sweating when dabbed onto problematic areas with a cotton ball.
HOW TO MAKE YOUR OWN NATURAL DEODORANT SPRAY
Utilizing natural ingredients and essential oils is a great way to help manage unwanted sweat and body odor, keeping you smelling fresh!
When deciding to DIY your own spray deodorant the possibilities are seemingly endless, and you can customize it with the ingredients and essential oils that work best for you.
The first option would be to start with a 1 to 1 ratio of water to alcohol. If filling a 2 oz bottle, start with 2 tbsp of each, and as for the alcohol,vodka is suggested, and the higher the proof the better!
Then add 6 to 8 drops of your favorite essential oils, or switch it up to see which oils work better for you.
Don't forget to shake well before every use to make sure the essential oils are evenly distributed, and this one may sting a bit if you just shaved, so be careful. If you experience any discomfort or irritation, discontinue use immediately.
Other variations of deodorizing sprays may call for witch hazel or white vinegar to incorporate as a base, and baking soda, coconut oil, and arrowroot can be used to make your own solid deodorant. 
CONCLUSION
So many factors come into play when it comes to the amount of sweat our bodies produce, and even the body odor that can come along with it. But all hope isn't lost! Some essential oils and other natural ingredients may be able to help get your sweating under control and keep you smelling fresh!