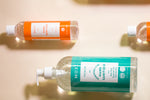 Can I Use Hand Sanitizer Everyday? 6 Things You Should Know About Using Hand Sanitizer Daily
Barely a year ago, hand sanitizers hardly ever made the news. We cared but too little about possible germs hitch-hiking on our hands. 
Yes, we have heard it countless times.
"Wash your hands for 20 seconds" or sing the "Happy Birthday song twice" during hand washing. 
Ask yourself, did you worry about hand hygiene as much as you do now? Do you find yourself handwashing more frequently or constantly hand sanitizing your hands? 
Hygiene Habits: Wishy-Washy
Well, you are not alone. A survey conducted by Bradley Corporations called Healthy Hand Washing Survey revealed that the majority of Americans are following the Centers for Disease Control and Prevention's (CDC) handwashing guidelines. 
As it turns out, the COVID-19 pandemic has changed America's hygiene habits, with 90% saying they are washing their hands more frequently or more thoroughly or longer, and 78% are washing their hands six or more times a day. 
Before the outbreak, only 37% of Americans would practice hand washing as recommended by the CDC. 
Also, 77 percent are washing their hands for at least 20 seconds or longer, per CDC recommendations. 
Before to the coronavirus, the majority of Americans were not washing their hands long enough. Fifty-seven percent estimated they washed for just five to 15 seconds. 
Are you shockingly disgusted? We are too! 
The Rise of Hand Sanitizer
Hand sanitizers were predominantly used in hospitals, labs, and related medical settings. 
But now, it's a whole new ballpark. Most public areas provide hand sanitizer and is readily available near entrances. 
In the wake of the COVID-19 pandemic, hand sanitizers have become a household item.
With the general public more conscious about their health amid the global pandemic. 
Many health experts unanimously support handwash (with running water and soap) as the best preventive method against bacterial and viruses that make us sick, including the wide-spreading coronavirus.
Although hand sanitizers remain second behind hand washing, sanitizers are arguably the most  convenient of the two.
It's common in the US and globally to keep a bottle of hand sanitizer in your pocket, purse, or backpack. It not only kills the virus but also helps us to do of our part to slow the spread of the disease. 
Indeed, regular hand hygiene is a leading measure to expel pathogens that make us sick. But did you know frequent hand sanitizing can cause problems for your skin?
It is a bit ironic but using too much hand sanitizer could have negative health impacts. 
Shocking? 
Quickly, let's discuss six surprising ways hand sanitizers can threaten your health.
#1. Everyday hand washing can cause bacteria-resistance
The CDC says anti-bacteria hand sanitizers breed antibiotic-resistant bacteria. With too-frequent usage, pathogens build a mechanism to tolerate the chemicals otherwise expected to kill them. This means exposure to more harm.
So, after 'fortifying' these powerful bugs, your typical antibiotic prescription may become too weak to fight them.
CDC reports that out of 2.8 million Americans who contract antibiotic-resistant fungi or bacteria annually, 35,000 dies. 
#2. Everyday Hand Sanitizer Use Will Dry Out Your Hand
If you use hand sanitizers every day, you've possibly noticed your hands drying out after frequent applications. This effect is caused by the high alcohol content of your hand rub. 
The best way around this is to apply skin moisturizers and consume plenty of water, to keep the skin hydrated. 
Besides the unappealing sight of visibly dried skin, severe cases leave cracks that expose you to infections.
#3. Too Frequent Applications Cause Skin Irritation
Everyday use of hand sanitizers may cause skin breakdown and irritations, from short-lived to chronic. These irritations can cause pain severe enough to ruin your daily routine.
While hand rubs under 60 percent alcohol are considered ineffective, too-high concentrations increase the risk of skin irritation.
Frequent use of hand soap can also result in skin irritations. Using both hand soap and hand sanitizer together excessively will increase your chances of destroying your skin's epidermis layer.
American Academy of Dermatology recommends applying moisturizer immediately after washing.  
Ointments, creams, and lotions (moisturizers) work by trapping existing moisture in your skin. Ideally, you need to apply a moisturizer within few minutes of hand washing. 
#4. Everyday Hand Sanitizer Use May Irrirate Your Open Cuts
Too frequent hand sanitizing can aggravate a minor cut and delay its healing time. The rule of thumb in the wound care niche says don't use for your wound, what you won't allow in your eyes. 
So, if you think hand rubs are no good for the eyes, they are the same for your cuts. 
When alcohol-based hand rub hits a cut, it can hurt badly, like a burn. 
#5. Higher Risk of Alcohol Poisoning
If CDC's recommendations are adhered to, alcohol-based sanitizers are widely safe for daily use. However, ingesting such alcohol-rich content may increase the risk of alcohol poisoning. 
Accidental ingestion is common with scented and stylishly packaged hand rub designs. 
While swallowing hand rubs may sound like a terrible idea, it's a thing if you have kids around.
Before you finally wave it off, remember - the poison centers across the US reported about 85 thousand calls linked to hand sanitizers poisoning in kids between 2011 and 2015.
For this, the CDC warns to place hand rubs out of children's reach, except under close adult supervision.
#6. Too Frequent Alcohol Use May Hinder Microbiome
Hand sanitizers are ruthless against microbes, keeping your hands safe from disease-causing agents. 
Surprisingly, these sanitizers contain properties that distort your body's microbiomes ('good bacteria' that improve certain body functions) and leave you widely exposed.
Since hand sanitizers destroy some of these helpful agents, the everyday application is unhealthy. 
Where absolutely necessary, use your hand sanitizers but cautiously. But when at home or without contacts with suspicious surfaces/people, you may wait until you get a sink and soap. 
While an alcohol-free hand rub looks more skin-friendly and, hence, better for everyday use, the CDC says no-alcohol formulas won't protect you.
When Should I Hand Wash with Soap and Water?
According to the CDC's recommendation, here's how often you should wash your hands: 
Before and after food
Before and after contacts with sick persons
After sneezing, coughing, or blowing your nose
Before treating a wound – and after
After handling garbage
After treating or handling animals – including contacts with their treats/food, waste, and cages
When hands are visibly dirty or oily
After cleaning up a child or changing diapers
After using the bathroom 
That's a long list. Such frequency will often leave your skin irritated or chapped. Besides, having a water and soap around at ALL times is highly impracticable.
Hand washing vs. Hand sanitizers for Everyday Use? 
Inarguably, hand washing is the most effective. But for skin sensitivity, hand washing is not entirely safe. 
As with everyday use of hand sterilizers, too frequent hand wash will get your hands dry and irritated.
But, since you won't always have soap and enough water around, hand sanitizers currently rule – chiefly for their remarkable portability, ease of application, and overall convenience.
Although washing and will keep you safe from germs, when too frequent, both cause bad skin.
Consider Alternating with Soap and Water
Now we know – soap and water is excellent, hand rubs are great. Conversely, too frequent usage of either (particularly sanitizers) can leave us with more health concerns, primarily skin-related. 
To avoid desensitization of your skin, consider using alternating between hand sanitizers and soap and water. 
If you are at home or near running water, you should opt for hand soap over hand sanitizer. Remember to moisturize after drying your hands to keep your skin healthy.
Scientists believe that our hands may transmit up to 80% of all infections so hand washing is key to stopping the spread of infection and staying healthy.
Protect Your Skin and Use 
Dermatologist
 Approved Hand Sanitizers 
If you can't avoid using hand sanitizers every day, do you best to protect your skin against excess drying. 
How so?
Keep your hands hydrated, always – particularly after applying your hand sanitizers. Using skin moisturizers and regular fluid, preferably water consumption, is the most effective way around it. 
Many hand sanitizers contain too much alcohol and other unnecessary ingredients that increase severe skin issues.
For sensitive skins, an unscented hand sanitizer with the recommended alcohol concentration between 60 and 70 percent is your best bet.  
Thankfully, Moxe Unscented Hand sanitizer ticks these boxes, commendably.
MOXĒ Hand Sanitizers are clinically tested and are Dermatologist Approved.
Rest assured that your skin is safe!
Additionally, this hand sanitizer does not only leave your hands germs-free; it contains glycerin, Aloe Vera, and Vitamin E to hydrate and lock-in moisture.
Besides the moisturizing effect, unscented hand sanitizers are widely tolerated across skin types. It's a great one if your hands are too sensitive for fragrances.
Not sure yet?
Check out our customers are saying about our unscented hand sanitizer! 
---------------------------------------------------
About MOXĒ Premium Hand Sanitizer Gel
Key Ingredients
-70% Ethyl alcohol
-Aloe Vera 
-Tocopheryl acetate (Vitamin E)
Features
-FDA-approved ingredients and facilities
-Meets U.S. quality standards (made in the USA)
-Leaping Bunny Certified
-Hypoallergenic & Dermatologist Approved
Regulated by the U.S. Food and Drug Administration, MOXĒ Hand Sanitizer boasts high-standards for quality and efficacy.
Get your alcohol-based sanitizer now, and stay safe and fresh. 
About MOXĒ
MOXĒ is a manufacturer of innovative health and wellness products focused on complementing any lifestyle. With our holistic approach, we add custom essential oil blends in everything we create and ensure every product is made with the highest quality ingredients to support clean living and peace of mind.
Visit MOXĒ at https://bemoxe.com/ or follow us on Instagram and Facebook: @bemoxe