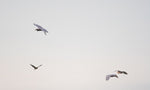 Are Essential Oils Safe for Birds?
Humans have been using essential oils for centuries for various medical purposes. However, it's been in recent years only that some of the holistic veterinarians are incorporating essential oils into different treatments of birds and animals. There have been multiple studies analyzing the properties of essential oils' effectiveness in treating the body and mind of humans. However, there have been only a few studies regarding the efficacy of essential oils for birds.
As essential oils grow in popularity, many see the benefits of these oils as an effective method to treat anxiety, depression, and other various health issues. The most common use of these essential oils is through the use of aromatherapy.
Many experts claim that these potent oils are a natural and effective alternative to traditional medical treatments for specific medical ailments.
Essential oil efficacy begs the question if it is ok to expose their pet birds to these essential oils. And if the answer is yes, then which of the essential oils can benefit birds and how to use them for birds effectively and SAFELY.
ARE ESSENTIAL OILS SAFE TO USE FOR BIRDS?
Essential oils are made from highly concentrated substances of plants and are known to have a series of wellness and health benefits in humans. Still, recently veterinarians have also added essential oils into their treatments for animals and then birds too. So, according to this, birds are the most recent addition in the veterinary aromatherapy world.
Many pet bird owners understand that certain air toxins can be harmful to their pets. Pet birds are highly sensitive to the commonly used household toxins, such as air fresheners or scented candle burning—these household items formulated with poor quality or synthetic essential oils. It was once thought that pure essential oils were also a potential toxin to pet birds; however, this was proven untrue.
Pet birds can benefit from essential oils, but it depends on the way you use these oils and how much. Oils must be very heavily diluted before using around birds. For a non-toxic household cleaner with pure essential oils, try MOXĒ's Multi Surface Spray.
For a non-toxic household cleaner with pure essential oils, try MOXĒ's Multi Surface Spray. 
Some best essential oils to consider for birds
Do you want to know which oils to use for your birds to ensure fantastic health benefits? Here we have a list of some of the most commonly used oils which you can consider safe for birds: 
Lemon essential oil
Orange essential oil
Frankincense essential oil
Ylang ylang essential oil
Helichrysum essential oil
Oregano essential oil
Cedarwood essential oil
How to use them for birds?
Before you are going to use essential oils for your pet bird, it is highly important to know how to expose your birds safely to these oils. There are various ways in which essential oils can be used. But for your birds, not all of these methods can be effective. Therefore, knowing the best or safer ways can help you to protect your birds in the best possible way.
Here we have different ways that can help you to a safer exposure of your birds to essential oils.
Diffusion
Placing a cold air diffuser around your bird is one of the most common ways to essential oils for your birds. Essential oils, for example, lavender, geranium, and lemon, are known to be safer options. However, confirming these with your vet before utilizing it is always highly recommended!
However, diffusion is a more effective way to use essential oils because this can add put healing essential oils molecules into the air. This method will allow both your bird and you to breathe these in and absorb them into your bloodstream in a more effective way.
Some studies show that the method of essential oil diffusion helps with anxiety, stress, depression in the birds, just like these do in humans. Even more, using essential oil diffuser will help a bird to be habituated with an unfamiliar environment in the best possible way.
Water Misting
Another most common way of using an essential for your bird is water misting. Spraying a gentle mist of essential oils can not only freshen up your room but also benefit your pet bird. As conventional air fresheners are commonly based on harsh ingredients, which can affect the health of your bird negatively. While a DIY mist of essential oil can be based on a bird-friendly essential oil or flower hydrosols such as lavender, water, and rubbing alcohol can benefit your bird more effectively.
Spraying a few sprites around the rooms of your house can go a long way. However, it is highly recommended not to spray directly on your bird's skin. Instead, spray it away from the bird to get the most benefits of aromatherapy.
Adding essential oils to the water to drink
This is another fantastic way of using essential oils for birds. You can add essential oils to your birds' drinking water (NOTE: Essential oils must be diluted to a safe level before using. Always consult your vet if essential oils are right for your pet). This can be an easy way to expose your birds to the health benefits of essential oils regularly.
However, it is always better to use a ceramic, glass, or stainless-steel water dish when you are going to add essential oil in that. Various essential oils can degrade plastics can be potentially harming to your bird. Most importantly, never make the essential oil solution too strong, in which your birds can't drink. A standard concentration that is being used for animals is 1 drop for every liter.
No matter which of the essential oil you are going to use for birds, it is always better to stay cautious. It is because the respiratory system of birds is entirely different from humans. Therefore, extra care is much needed.
Conclusion
Are essential oils safe for birds? The answer is likely yes, but you must note the precautions and use these concentrated oil correctly.
If you are using essential oils around your bird, be sure you purchase them from a trusted source. The respiratory system of a bird is highly sensitive to synthetic and artificially scented products, so you must choose essential oils that are of pure grade. If you have any questions or concerns about using essential oils around your birds, speak with your veterinarian.